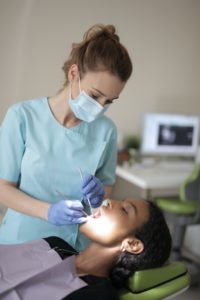 Over the last several weeks, you've had to make various changes in your life to protect yourself and others from COVID-19. Besides washing your hands more often and wearing a face mask, you'll experience other changes as well, like when it is time to visit your dentist in Leawood. Although dental offices are already some of the cleanest places, your dentist has updated their safety protocols. Here are 5 ways your dentist prepares for your appointment to prevent the spread of coronavirus.

1. Safety Champion
Your dental team has recently undergone advanced training in preparedness and awareness to help reduce the transmission of coronavirus. As a result, everyone in the office will have the knowledge and training necessary to keep you safe. Each morning, your dentist will select a "Safety Champion," who will greet you upon your arrival and help ensure everything flows smoothly during your time in the office.
2. Daily Health Checks of Staff
Your dental team will have a no-contact temperature check and a quick assessment to look for any signs they might be ill. This is a simple, yet effective step to ensure they are well and ready to provide you with the superior services you deserve.
3. Change Work Clothes at Work
Research shows dental professionals and other healthcare workers can transmit harmful pathogens by their clothing. As a result, you won't see your dental team wearing their scrubs outside of the office anymore. Instead, they will change their work clothes at work. You can rest assured they will be wearing a clean pair of scrubs during your appointment.
4. Personal Protective Equipment
Your dental team always wears gloves and masks when in contact with patients; however, they will be using personal protective equipment more often. They might also wear face shields or disposable clothing to provide a barrier between themselves and patients.
5. Social Distancing
Besides hand washing and masks, social distancing is equally important when preventing the spread of COVID-19. Believe it or not, social distancing is possible while at the dentist. As part of their new dental safety protocols in Leawood, your dentist has changed a few things to ensure there are few people in the office, like scheduling less appointments each day. Virtual waiting rooms and plastic barriers can also be used to keep patients from being too close to one another.
Choose Safe Dental Care
Your wellness is more important than ever as we battle the COVID-19 crisis. You can feel at ease knowing your dentist is keeping your safety a top priority, even before you arrive for your appointment. Visiting the dentist should be the cleanest part of your day.
About Dr. Dennis C. Ayer
Dr. Dennis C. Ayer earned his dental degree at the University of Missouri-Kansas City School of Dentistry. He regularly continues his training to remain well-versed in the latest treatments, procedures, and protocols, including those relating to COVID-19. If you have any questions about our safety standards, or you're ready for an appointment, contact our office today to speak with a member of our team.