Restorative Dentistry – Leawood, KS
We Can Replenish Your Smile's Strength & Health
When our patients find themselves in need of restorative solutions, we're always here to help with the widest possible range of modern solutions, including everything from minor fillings to lifelike crowns to transformative full mouth reconstructions. Dr. Dennis Ayer believes in providing treatment that combines long lasting durability with gorgeous aesthetic quality, so that patients can enjoy a truly ideal smile that looks and feels exceptional. Our treatment options include the following:
Why Choose Dr. Dennis Ayer for Restorative Dentistry?
Over 3,500 Hours Of Advanced Restorative & Cosmetic Training
Complimentary Consultations & 2nd Opinions
Emergency Dentistry Available
Tooth-Colored Fillings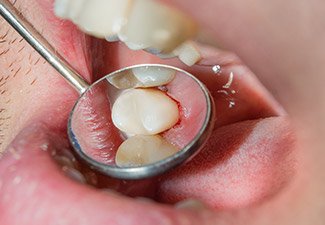 In the past, dentists had to rely on amalgam fillings to treat cavities, which left noticeable silver spots in a patient's otherwise natural smile. Today, we're happy to let you know that you no longer have to choose between having a healthy smile or a beautifully natural one. Dr. Ayer provides composite resin fillings that can be precisely shaded to match the color of your enamel, resulting in a truly seamless treatment. Tooth-colored fillings are also much more conservative, and they tend to be less sensitive to hot and cold temperatures.
Learn More About Tooth-Colored Fillings
Traditional Dental Crowns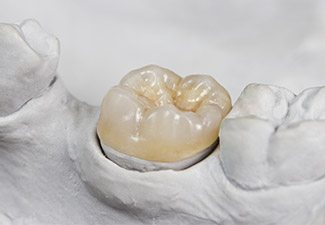 Crowns are an important cornerstone of restorative care because of their versatility; we can use them to correct areas of severe decay, structural damage, and even cosmetic flaws in a seamless and high-quality fashion. Our Leawood, KS, dental team also uses custom-made crowns as a vital component of dental bridges, which can be used to replace one or more consecutive missing teeth. By relying on crowns as anchors that securely adhere to neighboring healthy teeth, we can attach your new bridge in a strong and durable manner, beautifully replenishing your smile.
Learn More About Traditional Dental Crowns
Learn About Your Tooth Restoration Options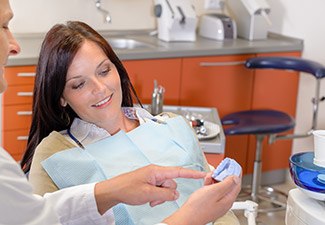 Please don't hesitate to reach out to us when you're struggling with oral pain or discomfort – our Leawood, KS, dental team is always here to help with warm, personalized care and state-of-the-art treatment options. Contact the practice of Dr. Dennis Ayer today to schedule your first appointment. Our team is also happy to welcome patients from the areas of Prairie Village, Shawnee, Overland Park, Merriam, Olathe, Leawood, Leawood and beyond.