Laser Dentistry – Leawood, KS
A Precise Approach to Hard and Soft Tissue Treatments
In the last decade alone, the field of dentistry has advanced exponentially. While the newest research and innovative techniques have certainly helped, the latest technology has contributed too. In fact, dental lasers have revolutionized dentistry, providing dentists and patients alike with an effective, pain-free, precise approach to hard and soft tissue treatments. Keep reading to learn more or get in touch with our team today to schedule your initial consultation!
Why Choose Dr. Dennis Ayer For Laser Dentistry?
Skilled Dentist with 30+ Years of Experience
Award-Winning, Hi-Tech Fotona Dental Lasers
Convenient Morning and Evening Hours
What Is Laser Dentistry?
Dr. Ayer and the rest of our passionate team prioritize advanced dental technology so our patients can enjoy a smooth treatment process and absolutely beautiful results. That's why we use Fotona's award-winning dental lasers! This cutting-edge technology allows us to achieve new levels of perfection, but how exactly does it work? In short, the laser acts as a cutting instrument. However, it vaporizes the tissue it comes in contact with, ensuring fast healing and minimal-to-no discomfort. As a result, laser dentistry is used for everything from tooth-saving restorative care to smile-enhancing cosmetic treatments.
Types of Laser Dentistry We Use
Committed to the latest in proven dental technology, our team utilizes not one, not two, but three of Fotona's state-of-the-art lasers:
LightWalker
An award-winning laser, the LightWalker line utilizes patented QSP (quantum square pulse) mode. As a result, treatments are easier to perform, provide shorter healing times, and allow patients to enjoy a much more comfortable procedure. Plus, its cutting-edge design has made it the world's fastest-cutting Erbium laser!
NightLase
Designed to treat snoring and sleep apnea, NightLase is not only incredibly effective, but it is non-invasive as well. With a laser-induced tightening effect (which contracts the collagen in the oral mucosa tissue), this state-of-the-art technology can improve the quality of a patient's sleep. The best part? The entire process can be completed in just three appointments over the course of a six-week period.
SmoothLase
Utilizing the Fotona LightWalker ATS system, this facial rejuvenation procedure can be used to smooth fine lines and wrinkles – no invasive treatments necessary! By applying the laser to the skin inside the mouth, our team can increase collagen production, tightening the tissue from the inside out. This gentle, non-surgical improvement can be used to treat your mouth, chin, lips, cheeks, jawline, and under-eye region.
Indications for Laser Dentistry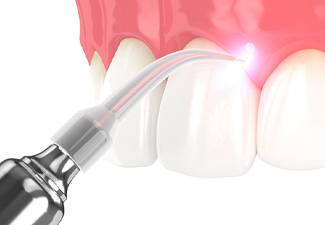 As mentioned above, laser dentistry is a versatile treatment that can be used for everything from restorative care to cosmetic treatments. Dr. Ayer can use this state-of-the-art technology to:
Remove tooth decay and prepare the area for the filling.
Treat gum disease.
Improve the quality of a patient's sleep.
Reduce the appearance of fine lines and wrinkles.
Benefits of Laser Dentistry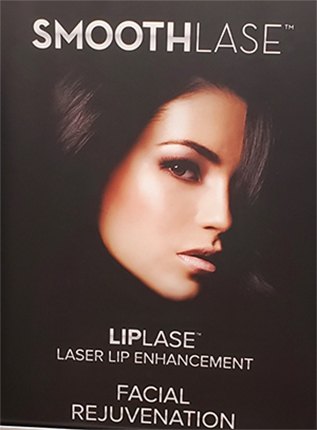 Laser dentistry provides precise treatment and is incredibly versatile. However, the benefits don't stop there! This innovative dental tool comes with a number of other perks, including:
The ability to treat hard and soft tissue alike.
Little-to-no bleeding during surgical procedures.
Less operator fatigue.
Effectively treats endodontic problems.
Delivers beautiful results.
Who Is a Good Candidate for Laser Dentistry?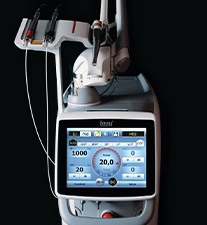 Whether you are looking to restore your smile or enhance it, you may be a candidate for laser dentistry! The best way to find out is by scheduling an appointment with Dr. Ayer. From there, he can sit down with you to learn more about your smile goals and conduct a quick exam to determine if laser dentistry is the best option for you. Next, he'll craft a custom treatment plan, answer any questions you have about the procedure, and get to work on providing you with the happy, healthy, beautiful smile you deserve.
Would you like to learn more about laser dentistry? Then don't hesitate to get in touch with our knowledgeable team. We look forward to working with you!
NeckLase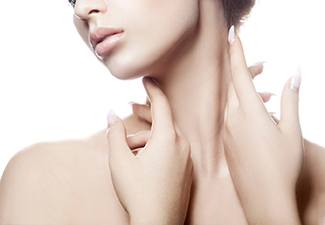 Are you bothered by loose, sagging skin beneath your chin? You may be a candidate for NeckLase. This noninvasive treatment uses a fractional laser to tighten skin and increase the production of collagen, an important structural protein. In as little as two weeks after your treatment, you may notice that the skin of your neck feels smoother and looks tighter. NeckLase has the potential to take years off of your appearance!