DocAyer Dental Membership Plan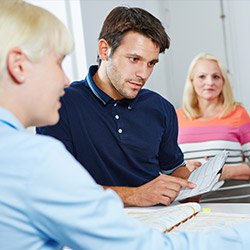 After many years of practicing dentistry and dealing with insurance companies, Dr. Ayer has seen the need to create a direct primary care plan to meet the needs of his patients.
The DocAyer Membership Plan is Direct Primary Care (DPC). DPC is dental care involving a direct financial relationship between the patient and dentist in exchange for personal and accessible primary dental care services. It is our preferred patient relationship and works like traditional insurance without the costly deductible, restrictive yearly maximums, and other related headaches! For a flat fee, patients will receive essential preventive dentistry and valuable discounts on a wide variety of other services, including dental crowns, root canals, Invisalign Clear Braces, and more.
Most small businesses and self-employed people are not able to provide dental coverage because individual insurance plans are too expensive, limited in coverage, and confusing to use with many forms to complete and unexpected restrictions. Additionally, most people agree that decisions regarding their dental care are best made between themselves and the dentist without third party involvement.
Dr. Ayer created THE DOCAYER DENTAL MEMBERSHIP PLAN to provide you and your family with affordable and efficient dental coverage. This plan provides outstanding benefits that are comparable to dental coverage offered by large insurance companies and employers.
Dr. Ayer and his outstanding staff will provide the best quality dental care available. We offer not only preventative dentistry but excellent coverage on major dental procedures such as crowns, bridges, Invisalign, root canals, and implant crowns.
Coverage Premiums
Individual and Spouse
$50/Month
Additional Dependent
$20/Month
Benefit Coverage
Preventative Care
Oral Exams

100%

Oral Cancer Screenings

100%

Oral Hygiene Instruction

100%

Post Operative Treatment

100%

Dental Cleaning (2 per year)

100%

Bitewing X-Rays

100%

Periapical X-Rays

100%

Full Mouth X-Rays (1 per 5 years)

100%

Fluoride Treatment (2 per year)

100%

Periodontal Maintenance (2 per year)

100%
Basic Care
Periodontal Maintenance (2 per year)

50%

Fillings

40%

Extractions

40%

Sealants

50%
Major Care
Periodontal Services

25%

Endodontic Services

25%

Crown & Bridge Services

25%

Denture & Partial Services

25%

Implant Services

25%

Cosmetic Services

25%
Additional
Discounted
Services
Invisalign®

$750 Discount

Bleaching for Life*

$199
*After a $199 enrollment fee, free bleaching refills are provided every 6 months, during a professional checkup and cleaning.
Learn More About the Docayer Dental Membership Plan Today!
Terms & Conditions
The discounts associated with the DOCAYER DENTAL MEMBERSHIP PLAN are only available through Dennis C. Ayer, D.D.S.
Monthly membership fees are to be paid for a minimum of twelve (12) month period and are non-refundable. Unless waived by the dentist, membership will automatically renew on the anniversary date.
60 day written notice of cancellation is required.
Qualified dependents are defined as husband, wife, and any non-married children living in the household under 25. Any additional dependents after five (5) each will have an additional surcharge of $20 per dependent.
Fees and plan discounts are subject to change without notice.
Missed or broken appointments without 24 hour notice will be charged $50 and,' anything over one hour, may be subject to additional charges.
All member co-payments are due prior to procedure start time.
Membership in the DOCAYER MEMBERSHIP PLAN may be terminated for abuse and failure to pay membership fees or properly billed work.
Dental services are administered solely by our dental office and may be discontinued at the end of any month with or without notice.
Plan Limitations & Exlusions
Dental plan benefits are not applicable until six (6) months after the initial date of acceptance, except for preventative services.
Covered prophylaxis is limited to two (2) times per calendar year. A difficult prophylaxis (i.e. heavy smoker, neglected teeth, etc.) is subject to a reasonable surcharge.
Fluoride treatments are limited to two (2) times per calendar year, per member.
Replacements are only eligible if the prosthetic is deemed non-restorable by dental standards, over five (5) years old, and dental prophylaxis and periodic exam appointments are kept at two (2) times per calendar year.
Dental procedures in progress, or performed before or after a member's eligibility period is excluded.
Any dental procedure not listed as a covered service above, including but not limited to , anesthesia, prescription medications, etc., is excluded.
Treatment required due to hospital and medical charges or self-inflicted wounds of any kind is excluded.
Treatment to correct congenital, developmental, or medically induced dental disorders is excluded (i.e. TMJ).
Replacement for lost or stolen appliances is excluded.
Any dental services provided to the member by state, county or municipal agencies or dental services provided without cost to the member are excluded.
Any dental expense incurred if the dentist is unable to perform a procedure due to the member's general health or physical condition is excluded.
Coordination of plan benefits with other plans is excluded.
The DOCAYER DENTAL MEMBERSHIP PLAN reserves the right to refer any treatment to a specialist if deemed necessary.