Porcelain Veneers – Leawood, KS
Perfecting Leawood Smiles
If you are not 100 percent satisfied with the appearance of your smile, your cosmetic dentist in Leawood offers a solution. Porcelain veneers transform the appearance of chipped, uneven, discolored, misshapen, or otherwise imperfect front teeth.
Porcelain veneers are thin shells made of dental porcelain. It's a material that looks and feels just like your natural tooth enamel. Veneers are also highly customizable to give you the precise look you are going for. Not everyone wants a super bright, Hollywood smile, after all. Porcelain veneers are manufactured just for you, in the size, shape, and color you desire.
Most patients are eligible candidates for porcelain veneers. They are securely affixed onto the front side of the teeth that show when you smile -- and when cared for properly, porcelain veneers can last for more than a decade.
Why Choose Dr. Dennis Ayer for Porcelain Veneers?
Comprehensively Correct Smile Flaws In As Little As 2 Appointments
Free Cosmetic Consultations
Personalized Smile Makeover Plans – No "One Size Fits All" Treatments
Procedure for Porcelain Veneers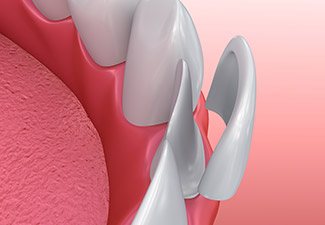 Once you decide that porcelain veneers are the best option for repairing or enhancing your front teeth, you can expect the procedure to be completed in two to three appointments with Dr. Ayer.
In the first visit, you and your dentist will discuss your teeth. What factors led them to look the way they do today? And what are your overall smile goals? With this information, Dr. Ayer will put together a treatment plan suited just for you. He'll add the specifics about your smile from the impressions and x-rays he takes after preparing your teeth for the veneers.
Tooth preparation in advance of veneers requires the removal of a small amount of enamel from the surface of each tooth. Just a few millimeters of space is often enough to make room for the new veneers. Local anesthesia is available for your comfort.
You wear temporary veneers to cover up the prepared teeth in the time between appointments. Your permanent veneers are manufactured by an expert ceramist and then shipped back to our office.
Once the veneers have arrived, you will come back for a final quality check. Dr. Ayer will remove your temporary veneers and give you the first preview of your new smile. If everything is just like it should be, the veneers are securely bonded on -- and you're ready to reveal your brand new smile.
Multiple Benefits of Porcelain Veneers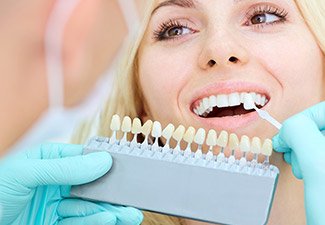 There are a number of advantages to choosing a single procedure like porcelain veneers for your smile transformation. Some of the most apparent include…
Multiple smile issues are corrected with just one procedure.
Dental porcelain reflects light just like the natural teeth.
Porcelain veneers are highly resistant to stains.
Minor gaps can be closed without the need for braces.
Local anesthesia is available at each step of the treatment process.
When cared for properly, dental veneers can last for more than a decade. If an issue does develop with a veneer, its repair or replacement is usually quick and simple.
Schedule an Appointment Today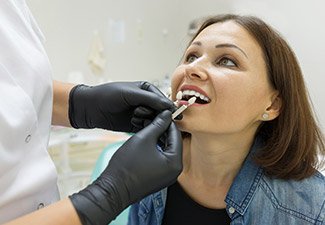 If you are interested in transforming the teeth that show when you smile, Dr. Ayer would love to help with porcelain veneers. Please request an appointment to explore your options in cosmetic dentistry today!