Cosmetic Dentistry - Leawood, KS
Enjoy Your Healthiest, Happiest Smile
Even though oral health is always a priority, Dr. Dennis Ayer and his team understand that many patients are interested in improving the appearance of their smile, as well. Thanks to advances in cosmetic dentistry, we're now able to help you achieve truly spectacular results in a more convenient and comfortable fashion than ever. Whether you're hoping to fix a single gap or multiple aesthetic flaws, you'll be sure to find the individualized, attentive approach you deserve.
Why Choose Dr. Dennis Ayer for Cosmetic Dentistry?
30+ Years of Proven Cosmetic Expertise
Comprehensive Smile Makeovers Available
Complimentary 2nd Opinions & Consultations
Porcelain Veneers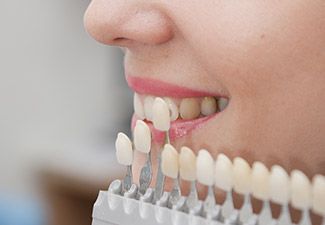 Veneers are the ideal cosmetic solution for patients who have several flaws that need attention, but don't have the means or the time to undergo several lengthy procedures in order to correct them all individually. Instead, these gorgeous, wafer-thin pieces of customized porcelain can give certain teeth or even your entire smile a complete makeover all at once. They'll hide uneven teeth, worn enamel, discoloration, chips, cracks, and much more behind a new, polished look. Dr. Ayer can alter the size, shape, length, or other purely aesthetic characteristics of your teeth as well, so that you can be sure to achieve the look you want. With the help of state-of-the-art digital imaging, our Leawood team can even show you what the final result will look like.
Porcelain veneers typically require two appointments to complete. During the first appointment, our team will take impressions along with photos to help plan and discuss the changes you're looking for, so we can be sure the design of the final product is as ideal as possible. We'll also remove a small amount of natural enamel in order to make room for the new veneers, providing you with a custom temporary in the meantime. Then, once we receive the final product from our trusted lab, we'll bring you back in so that we can place them securely over your teeth and ensure that you're completely happy with the result.
Learn More About Porcelain Veneers
Invisalign® Clear Braces
Many older patients often feel like they've missed the boat on achieving a straighter smile with orthodontic treatment. After all, the professional world may not seem well-suited to dark-colored brackets and wires. Thankfully, there's another way: Invisalign! The Invisalign system consists of clear-colored aligners that fit subtly over a patient's rows of teeth and are easily removable when needed, allowing for a full diet and normal oral hygiene routine throughout the treatment process.
Learn More About Invisalign® Clear Braces
Metal-Free Crowns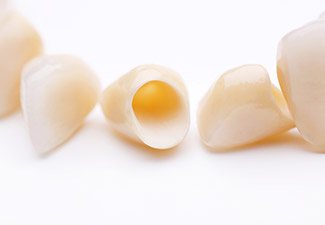 In today's modern world, common restorative solutions like dental crowns aren't limited to silvers, golds, and other unnatural metals any longer. Our Leawood practice can use highly attractive and lifelike ceramics that blend right in with a natural smile to keep your self-image safely intact. Better yet, these smile additions are functional, comfortable, and 100% biocompatible. Even patients who've struggled with sensitivities and outright allergies to common dental metals in the past have been able to receive them without issue.
Learn More About Metal-Free Dental Crowns
Cosmetic Bonding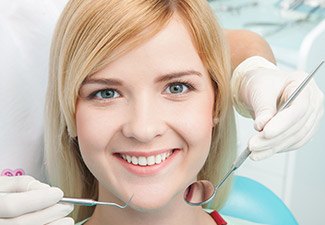 Even the smallest smile imperfections can loom large in photographs or the bathroom mirror. If you're looking for a "quick fix," cosmetic bonding may be the right service. This procedure will only take a single appointment in most cases, during which Dr. Ayer will carefully apply tooth-colored composite resin and artistically sculpt it into a subtle addition that hides the chip, stain, or gap from view. Once hardened in place with a curing light, your improved smile should thrive for several years with proper maintenance.
Learn More About Cosmetic Bonding
Teeth Whitening Treatments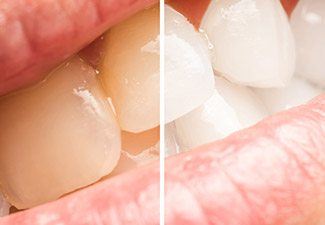 Teeth whitening is one of the most popular cosmetic dentistry services today, and for good reason. Everyone wants to say goodbye to discoloration and stains and instead achieve a beautiful, brilliant smile like movie stars have. Sadly, having less than perfectly white teeth is a common occurrence, and this results from a wide variety of causes that include:
Genetics
Age
Coffee
Red Wine
Soda
Tobacco
Certain Medications
In-Office Teeth Whitening
Thankfully, Dr. Ayer has been whitening smiles for 20 years. He's frustrated to hear about patients who have previously experienced discomfort during their whitening procedure and then don't achieve the results they were hoping for. In Leawood, our dental team is proud to offer a teeth whitening technique that's more effective than any other: the Kansas City Deep Bleach! There's no acute sensitivity or discomfort to worry about with this in-office procedure – only fast, gorgeous results we know you'll be blown away by.
Take-Home Teeth Whitening
We also offer take-home teeth whitening kits for patients who would rather achieve a brighter smile at their own pace. We'll provide the customized oral appliances and high-grade bleaching gel – all you have to do is wear both together for an instructed period of time each day in the comfort of your own home. Many patients notice a change after the very first application, with the most dramatic results occurring after one to two weeks. We look forward to providing you with solid advice, professional care, and the close attention you deserve as you work towards the smile of your dreams!
Learn More About Teeth Whitening
Dermal Fillers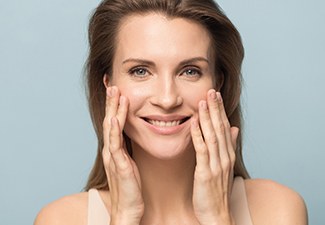 Want to rid your facial appearance of deep wrinkles and sunken scars? Dr. Ayer and our team are here to help you achieve the look you truly desire with dermal fillers. Known for its similarity to BOTOX, this unique solution injects filler into your face instead of temporarily freezing muscles from contracting. With dermal fillers, you can expect a smoother, more vibrant look that positively turns heads.
Learn More About Dermal Fillers
Botox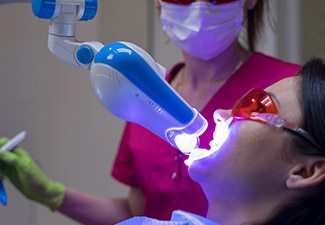 You've finally achieved the perfect smile – but what about the perfect face to match? If you're struggling with noticeable wrinkles, Dr. Ayer can provide a solution right here in his Leawood office. Botox is a purified protein that helps to reduce the muscle activity that typically causes noticeable lines. It quickly and effectively soothes out the skin in a matter of days, and patients don't even need anesthesia. The results last around four months, after which you'll need to come in for a touch-up so that you can maintain your new, youthful look. Dermal fillers are naturally occurring hyaluronic tissue builders. These Dermal fillers are injected to fill certain areas just under the skin to give patients a younger look.
Digital Simulation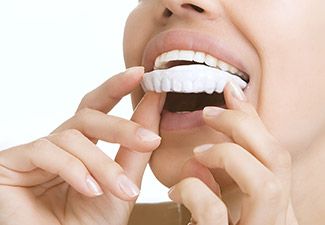 Sometimes, it can be difficult to commit to cosmetic treatment when you're not sure what the final result will look like. Thankfully, you can commit with confidence in Leawood, KS. Dr. Ayer or one of our other trusted team members can take a digital portrait of you and then post it to the secure Smile-Vision Website, where we will direct a dental illustrator to show you how your smile will change once the treatment you're considering has been completed. At that point, Dr. Ayer will create your case with wax on a model. You will have the opportunity to hold your case in your hand and view it. Changes can be made at this stage. Dr. Ayer will then use this final wax-up for his temporary system and final goal to deliver a predictable case that you have seen and approved. Now, you can enjoy the feeling of complete confidence as we work on creating your ideal smile.
Customized Temporary Restorations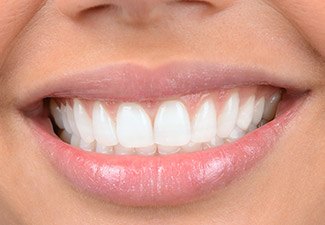 Restorative solutions like crowns, bridges, and veneers often take a trusted lab some time to craft, and during that time, the last thing you want to be without is a complete smile. Thankfully, we can provide beautiful temporaries that look just like the real thing because they were created from your customized model instead of one-size-fits-all solutions. Our revolutionary system can fabricate customized pieces that are close to what you'll experience with the final restoration, which means you'll be able to transition very smoothly when your made-to-order treatment is completed.
Smile Makeover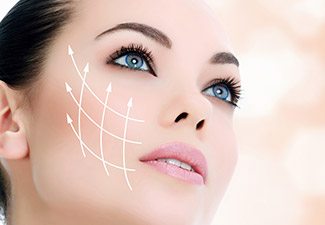 If a patient is facing extensive cosmetic concerns, Dr. Ayer will want to create a comprehensive smile makeover plan that addresses their needs, goals, and personal preferences from every angle. After an in-depth consultation, he may recommend services like teeth whitening, porcelain veneers, dental implants, Invisalign Clear Braces, and any other transformative options that are a good fit, scheduling them in the most convenient fashion possible. We want to leave you with your ideal appearance!
Learn More About Smile Makeovers
Schedule Your Cosmetic Consultation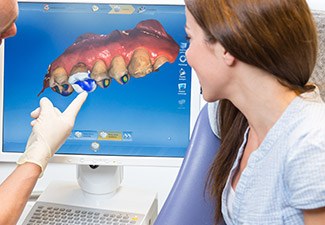 Are you ready to achieve the look of your dreams? Contact the office of Dr. Dennis Ayer today if you have any questions about our available cosmetic services, or if you're ready to schedule your first appointment. We're also happy to welcome new patients from the surrounding areas of Prairie Village, Overland Park, Merriam, Shawnee, Olathe, Leawood, Leawood and beyond.