Invisalign® Clear Braces - Leawood, KS
Straighten Teeth Beautifully – No Wires & Brackets Required
Are crooked teeth causing you to hide your smile at every turn? For many adults, the idea of finally achieving a beautifully straight smile is tempting, but a daunting prospect – after all, the last thing those of us in the professional world want is to spend years wearing juvenile metal braces. Thankfully, Dr. Dennis Ayer offers a much more sophisticated alternative – Invisalign. With the transformative power of Invisalign, patients from Leawood, KS, and beyond can achieve their perfect look in a virtually seamless fashion.
Why Choose Dr. Dennis Ayer for Invisalign® Clear Braces?
Certified Invisalign® Provider
Clear, Removable Aligners – No "Metal Mouth"
Complimentary Cosmetic Consultations & 2nd Opinions
How Does Invisalign Work?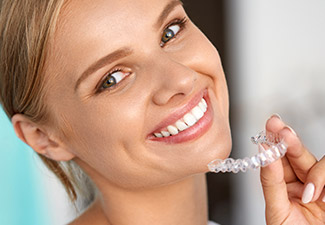 Orthodontic treatment with Invisalign consists of a customized set of clear, comfortable aligners, each of which represent a different stage of your smile as your teeth are slowly moved into their ideal position. All patients need to do is wear each set for a predetermined period of time before switching to the next aligner in the series. Additionally, we'll ask that you attend brief check-ups every four-six weeks with Dr. Ayer so that he can ensure you're making progress.
Benefits of Invisalign Treatment
Invisalign offers patients several valuable benefits over traditional metal braces. There are no uncomfortable brackets or painful wires to worry about – just smooth plastic that's been personalized to fit your unique smile. Your aligners are virtually unnoticeable to those around you, and they're removable as well, so that you don't have to make any inconvenient changes to your diet or oral hygiene routine. Best of all, treatment is usually completed in 12-18 months, which is a significant improvement over the multiple years metal braces often require.
Contact Us to Learn More About Invisalign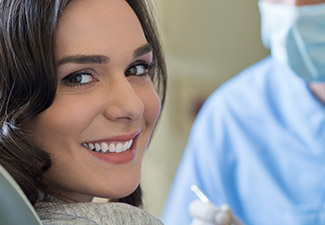 As our valued patient, you can look forward to enjoying a comfortable office environment, fair and reasonable prices, convenient appointment scheduling, and personalized attention that's exceptional in skill. Contact the office of Dr. Dennis Ayer today if you have any questions, or if you're ready to join our oral healthcare team. Located in Leawood, KS, we also serve the areas of Shawnee, Prairie Village, Merriam, Overland Park, Olathe, Leawood and beyond.