Dentures – Leawood, KS
Say Goodbye to Gaps in Your Smile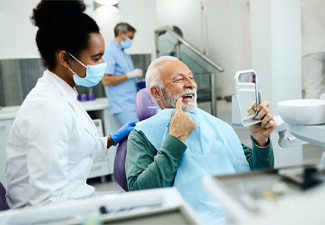 Do you suffer from extensive tooth loss? You're not alone. According to the American College of Prosthodontists (ACP), roughly 178 million Americans are missing at least one tooth and 40 million are missing all their teeth. If you contribute to either statistic, you understand just how much tooth loss can affect your quality of life. Fortunately, you don't have to live that way forever. At the office of Dr. Dennis Ayer , our restorative dentist offers dentures to help rebuild your smile and restore your confidence. If you're ready to say goodbye to gaps in your smile, continue reading or schedule a consultation with our team today!
Why Choose Dr. Dennis Ayer For Dentures?
Dentists With Advanced Restorative Training
Dental Insurance Welcome & Flexible Financing
Implant-Retained Dentures Are Available
Who Is a Good Candidate for Dentures?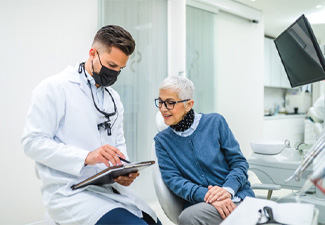 Whether you're missing several teeth or an entire arch, you may be eligible to get dentures in Leawood. This method of tooth replacement is excellent for patients who want to enjoy a complete, functioning smile once again. During your consultation, we'll conduct an oral examination to determine if this solution is right for you. It's incredibly important that you have healthy gums to support your new prosthetics. That said, if you have problems like tooth decay or gum disease, you'll need to work the appropriate care into your treatment before you can start the denture process.
Types of Dentures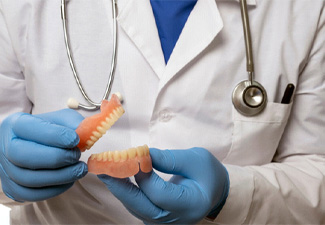 During a consultation, your dentist in Leawood will assess your goals and needs to narrow down the right type of denture for you. Based on his findings, he'll recommend one of the following options:
Full Dentures
For patients missing an entire row of teeth, full dentures are an excellent solution to consider. They also have a discreet, gum-colored base and natural-looking teeth. Full dentures sit on top of the gums and are held in place using natural suction or a small amount of denture adhesive.
Implant Dentures
Do you want unmatched stability and durability? You might want to consider getting implant-retained dentures. A full or partial denture is attached to several dental implants that are surgically inserted into the jawbone. Because the titanium posts are placed in the bone, they stimulate it to prevent deterioration and your new teeth benefit from great stability. Additionally, you can expect to enjoy your new smile for several decades with proper care and maintenance!
The Benefits of Dentures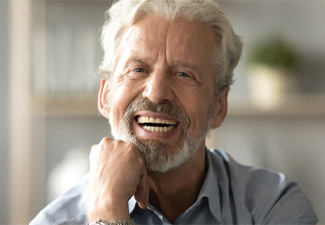 Patients who choose to get dentures can expect numerous benefits including:
Renewed ability to eat a nutritious diet
Natural-looking results
Easy to clean and maintain
Affordable and trusted method of tooth replacement
Improved self-confidence
Lifespan that extends well over a decade with proper care and maintenance
Understanding the Cost of Dentures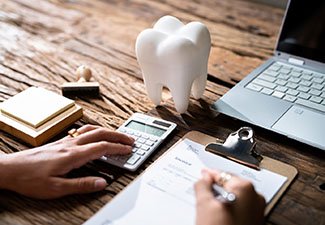 Many patients are hesitant to move forward with restoring their teeth because they aren't sure about the cost of dentures in Leawood. Our team is here to help you get the most out of your smile by restoring it to be more functional and aesthetically pleasing. Both full and partial dentures are excellent, cost-effective solutions to replace missing teeth. Don't miss out and schedule a consultation with our team so we can provide you with a detailed cost estimate to rejuvenate your grin!
Factors That Affect the Cost of Dentures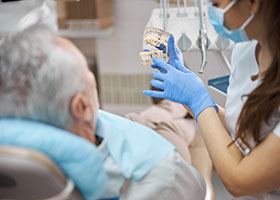 There are multiple factors that determine the final price tag of your new prosthetic, some of which include:
Whether you need any preparatory work, like a tooth extraction or gum disease therapy.
The number of teeth you're missing and style of denture you'll need.
The materials you want your dentures to be crafted from (which can include porcelain or ceramic).
Although you may be searching for the most bang for your buck, it's important to keep in mind that cost isn't the only factor to consider when you're looking for the perfect replacement teeth. You'll also want to think about your comfort, functionality, and whether you'll feel confident wearing them! All of these details come together to impact your day-to-day life and the value of your investment.
Are Implant Dentures More Expensive?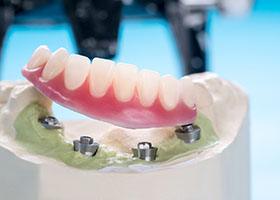 While it's true that implant dentures have a higher up-front cost, they also have a lifespan that's about four times that of traditional dentures. Because of this, many patients are able to actually save money in the long run by having fewer dental visits and needing to replace their prosthetics less with dental implants. Not to mention, this advanced treatment offers a wide range of unique benefits, including the prevention of jawbone deterioration, a natural look and feel, and up to 80% restored bite power. So, while they're more expensive, many patients consider the initial investment well worthwhile.
Does Dental Insurance Cover Dentures?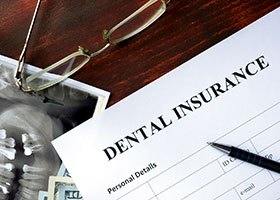 Dental insurance benefits differ from plan-to-plan, so while we can't tell you the exact percentage that yours will cover when you get dentures in Leawood, we can say that most provide up to 50% of the cost of the prosthetics. Plus, to make life a little easier, we're also in-network with most major insurance plans, allowing you to maximize your savings.
Other Options for Making Dentures Affordable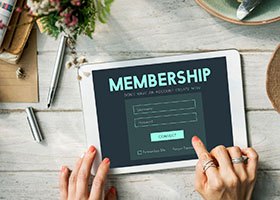 In addition to accepting dental insurance, our team also offers a couple of different avenues you can take to help you save money when you visit your denture dentist in Leawood. If you're on a strict budget, you can opt for a flexible payment plan through CareCredit at little-to-no interest. Or, if you're looking to pay out-of-pocket, you can get additional discounts by signing up for our DocAyer Membership Plan. For just $40 a month you can receive 25% off of denture and partial or implant services.
Denture FAQs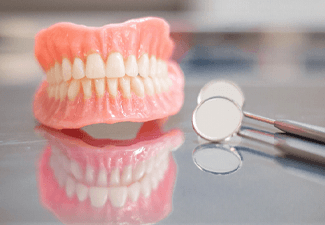 Getting dentures can be a major change in your life. Before you begin the process, you should take the time to learn as much as you can about it so that you can avoid unpleasant surprises. The FAQs listed below address some of the questions that we've often heard from patients getting dentures for the first time. Is there something you want to know that isn't discussed here? Reach out to talk to one of our team members.
How Long Will You Have to Wait to Get Dentures After Your Teeth Are Pulled?
The answer to this question isn't exactly the same for every patient. Normally the waiting period is around six to eight weeks; this is to give the gums enough time to heal before they need to support new teeth.
In some cases, you might be able to get immediate dentures, which are placed on the same day of the extraction. The main advantage of this approach is that you can start using your new teeth to eat and speak right away. However, there's a chance that the shape of the bone and gums might change as your mouth heals, causing your dentures to no longer fit properly.
Can I Sleep with Dentures?
When you first get your dentures, you'll need to keep them in your mouth for at least 24 hours. Naturally, this includes when you go to bed. After that, though, you should be taking your dentures out every evening.
Dentures reduce the circulation in your gums, which can irritate your soft tissues and contribute to bone loss in the jaw. By taking your dentures out at night, you allow your gums to recover and give them a chance to get the nutrients they need to stay healthy. Furthermore, taking your dentures out for regular cleanings makes it less likely that harmful bacteria will accumulate underneath them.
Will It Hurt to Get Dentures?
If tooth extractions need to be performed before you can get dentures, your mouth will be numbed to keep you comfortable during the procedure. Afterward, you may experience some discomfort, but it should improve after 3 to 5 days and can usually be managed with medication.
The dentures themselves may cause some slight irritation when you first start wearing them. Such discomfort will typically fade once your mouth has had a chance to adjust. The exact amount of time you need to get used to your dentures may vary, but it often takes months.
Can You Still Eat Steak with Dentures?
You can still enjoy tough meats like steak with dentures as long as you take the right steps, such as:
Choosing tenderloin or other cuts that have fewer hard-to-chew connective tissues.
Having the meat thoroughly tenderized.
Cutting your meat into smaller pieces that are easier to manage.
Using an adhesive to keep your dentures in place so that they don't slip while you're trying to chew.