Tooth Extractions – Leawood, KS
Tooth Extractions Can Improve Your Oral Health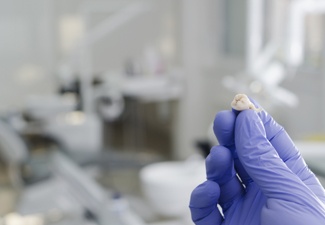 We help our patients keep their natural teeth whenever possible. But, in some cases, tooth extractions are necessary to help you move forward with a healthier smile. Dr. Dennis Ayer and our team have the experience and gentle touch that makes extractions easier than you expect. Your comfort comes first through every step of the process and we also offer sedation options to make the procedure stress-free. If you think you may need a tooth extraction, don't hesitate to give our Leawood, KS dental office a call so we can create a treatment plan that's right for you!
Why a Tooth Extraction Might Be Necessary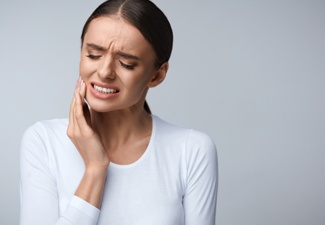 There are many possible reasons to have a tooth removed. One of the most common is when a tooth has been so badly damaged by a large cavity or fracture that it can't support a filling or dental crown.
By doing an extraction, we remove the damaged tooth before it causes additional problems and then discuss a replacement option to restore your smile. Here are some additional reasons you may need to have a tooth removed:
Overcrowding (this is commonly done prior to orthodontic treatment)
Wisdom teeth that are in danger of damaging other teeth
Advanced gum disease that has caused the teeth to become loose
As preparation for dentures
A dental emergency where a tooth has been badly injured
The Basic Steps of the Procedure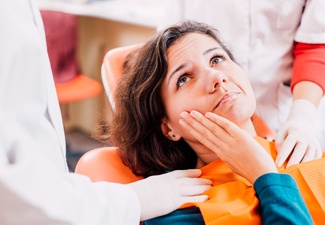 There are two main types of extraction procedures: simple and surgical. As the name implies, a simple extraction is relatively straightforward is usually done when a tooth is in one full piece and has fully come through the gums (i.e. it's not impacted).
After making sure the area is fully numb, Dr. Ayer will loosen the tooth and use a pair of forceps to grasp it and remove it from its socket. You won't feel any pain, but you will feel some pressure as the tooth comes out.
We often recommend a surgical extraction for wisdom teeth or any teeth that are partially under the gums or broken in several pieces. For these procedures, many patients do well with our sedation options. Then, after the area is fully numbed, we make an incision in the gums to access the tooth. Once the tooth is removed, we'll place stitches in the area to promote healing.
Lastly, we'll discuss post-operative instructions for caring for the area and any pain medication that's necessary.
Your Comfort Is Always a Priority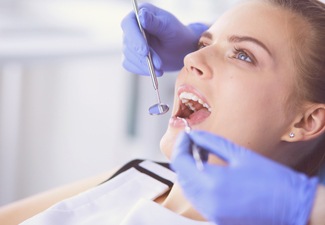 Dr. Ayer has performed countless dental extractions in Leawood over the years and has a friendly, reassuring chairside manner that makes our patients comfortable throughout the procedure. But we know that extractions can be intimidating for anyone, particularly our patients who experience dental fear or anxiety.
That's why we make sedation dentistry available upon request. Nitrous oxide, also called "laughing gas," is a wonderful way to feel calm and relaxed during your procedure, and you'll be back to normal within a few minutes of being finished so you can drive yourself home.
Understanding the Cost of Tooth Extractions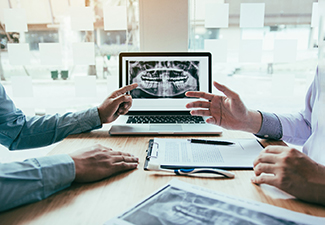 We understand that telling a patient they need a tooth extraction can be somewhat stressful, not just because of the physical discomfort often associated with the procedure, but also the cost. While there isn't a fixed price for extractions that we can quote you right here, we can go over the different factors that will influence what you'll pay. Also, we'll share the multiple ways you can save so that your treatment is easily affordable.
Factors That Can Affect Tooth Extraction Cost
The cost of a tooth extraction can vary based on:
The location of the tooth being removed, with teeth in harder-to-reach areas (toward the back) typically costing more to extract.
The complexity of the procedure-- impacted or multi-rooted teeth require more time and effort to remove.
The expertise and experience of the dentist performing the procedure can also change the cost.
Additional factors that may affect the cost include pre-operative exams, sedation, and post-operative medications. We will go over all of these and more with a patient prior to performing an extraction so there are no surprises.
Does Dental Insurance Cover Tooth Extractions?
Dental insurance typically covers tooth extractions, but the extent of that coverage can differ depending on the individual policy. Some plans may cover only a portion of the cost, while others may cover the entire procedure. It is important for patients to review their insurance policy with our team to determine their coverage before committing to treatment.
Our practice is in-network with several popular plans, so we will help you navigate your benefits to ensure you're able to save as much as possible.
Other Options for Making Tooth Extractions Affordable
If you don't have dental insurance or are underinsured, there are other methods you can use to help pay for your extraction.
Patients can space out their costs using low-to-no interest financing with CareCredit, which is a third-party company trusted and used by literally thousands of healthcare providers and millions of patients around the country.
Our practice also offers the DocAyer Membership Plan, where you pay a small monthly fee (much less than the typical premium) and gain access to extensive savings on many types of procedures. For example, checkups and cleanings are fully covered, while extractions receive a 40% discount. It's simpler than insurance, more affordable, and it only takes minutes to sign up.