Dental Implants – Leawood. KS
Replace Missing Teeth For Life!
Whether it's just one tooth or a whole arch, losing teeth can be a truly devastating experience. Not only is your oral health compromised, but your self-confidence takes a blow too, making it difficult to talk or smile around others without feeling embarrassed. During this trying time, what you need is support from a team you can trust, and that's just what you'll find here at our Leawood, KS dental office. Dr. Dennis Ayer is committed to offering revolutionary implant dentistry services that can seamlessly restore your teeth and give you back the natural strength you need to maintain the structural integrity of your mouth.
Why Choose Dr. Dennis Ayer for Dental Implants?
Dental Implant Restoration In 1 Location
Member of the International College of Oral Implantologists (ICOI)
State-of-the-Art Diagnostic Technology
Benefits of Dental implants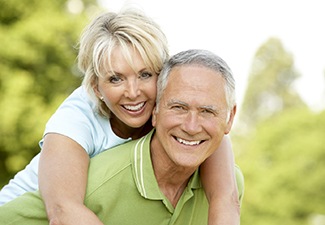 Dental implants and implant-retained prosthetics come with many valuable benefits, such as:
They're the only restorative solution that actually preserves the health and fullness of the jawbone, which is a big help in avoiding future oral health problems and a sunken facial appearance over time.
With implants, no surrounding teeth have to be negatively altered in order to make room for the new restoration.
No more looseness or discomfort to worry about – implants are so stable that they feel identical to natural teeth.
Implants have a high success rate, between 90 and 95% after 20 years, and if cared for properly through diligent oral hygiene and regular checkups with Dr. Ayer, they can last for a lifetime.
Because they replace both the roots and crowns of missing teeth, dental implants look the most like your healthy, natural smile. That means you can feel 100% confident speaking, chewing, and smiling in any situation – personal and professional.
Dental Implant Restoration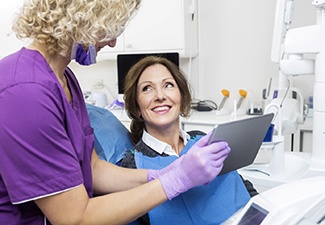 While most dental offices need to refer patients elsewhere for the surgical portion of their implant procedure, Dr. Ayer has the specialized training and experience necessary to smoothly handle many of these procedures right here in our Leawood dentistry practice. Once you've properly healed from the placement of your implants and abutments, you'll return to our office, so we can create a high quality restoration designed to seamlessly blend in with your remaining natural teeth.
Start-to-Finish Convenient Dental Implant Placement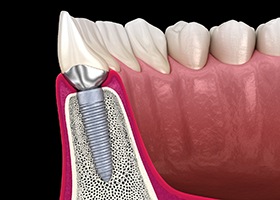 The secret behind the revolutionary success of dental implants is that they replicate the entire structure of the tooth instead of simply the crown (the visible portion). With the help of a biocompatible titanium "root," patients can preserve the health of their jawbone and even encourage new growth throughout the years, resulting in a revitalized, aesthetically pleasing outcome.
Before any treatment actually begins, Dr. Ayer will need to determine whether or not you're a viable candidate for the implant procedure and what exactly your unique needs are so that he can be sure to approach them in the most ideal way possible. Once we have this vital information, our team can move forward with the first step of the procedure: the actual placement of your new implant or implants. Dr. Ayer or one of his hand selected specialists will carefully and securely insert them into your jawbone. Then, over a healing period of about three to six months, they will slowly form a bond with your natural tissue, creating a solid foundation. At some point, we will uncover your implants and attach small posts (called abutments) that will serve as the anchors for your replacement teeth. During this time, we provide patients with a temporary, lifelike denture so that they don't have to be without a complete smile.
Understanding the Cost of Dental Implants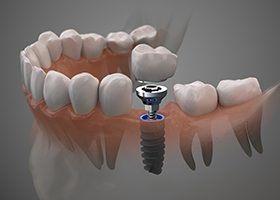 The cost of dental implants is higher than the price of other tooth replacement options, but the added investment delivers replacement teeth that last two decades or longer with proper care. In fact, many people keep their dental restorations for the rest of their lives. In order to offset the cost of implant tooth replacement, you can pay for each step of the implant tooth replacement process individually. The first phase of the process is the surgical placement of your implants. Once in place, your implants will need several months to fuse with the jawbone. Then, you'll return to our office where we attach an abutment that connects the implant to your replacement tooth. When the abutments are in place, we design, craft, and place your replacement tooth or teeth, recreating your smile. The entire tooth replacement process can cost anywhere from $2,000 to $30,000 or more. We'll help you to plan for the costs of your individual dental implant t plan, during the planning phase of treatment.
Learn More About the Cost of Dental Implants
Schedule a Dental Implant Consultation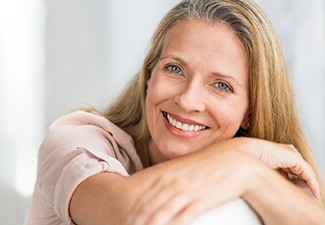 When you come to the dental office of Dr. Dennis Ayer, you'll be treated with the nurturing care and professionalism that embodies our practice. We look forward to welcoming you! Contact our Leawood dental office location today if you have any questions about our services, or if you're ready to schedule an implant consultation. We also serve the areas of Merriam, Shawnee, Prairie Village, Overland Park, Olathe, Leawood and beyond.