Dental Implants — Leawood, KS
Replace Missing Teeth for Life!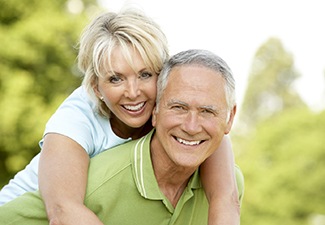 Whether it's just one tooth or a whole arch, losing teeth can be a truly devastating experience. Not only is your oral health compromised, but your self-confidence takes a blow too, making it difficult to talk or smile around others without feeling embarrassed. During this trying time, what you need is support from a team you can trust, and that's just what you'll find here at our Leawood, KS dental office. Dr. Dennis Ayer is committed to offering revolutionary implant dentistry services that can seamlessly restore your teeth and give you back the natural strength you need to maintain the structural integrity of your mouth.
Why Choose Dennis C. Ayer, DDS, LLC for Dental Implants?
Dental Implant Restoration and Placement In 1 Location
Member of the International College of Oral Implantologists (ICOI)
State-of-the-Art Diagnostic Technology and Dental Office
What Are Dental Implants?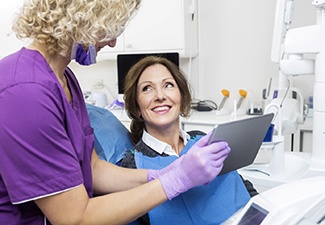 The secret behind the revolutionary success of dental implants is that they replicate the entire structure of the tooth instead of simply the crown (the visible portion). With the help of a biocompatible titanium "root," patients can preserve the health of their jawbone and even encourage new growth throughout the years, resulting in a revitalized, aesthetically pleasing outcome. The result is better oral and overall health, a major boost in your confidence and self-esteem, and the ability to eat all the foods you enjoy without worry of your tooth replacement shifting out of place.
The Dental Implant Process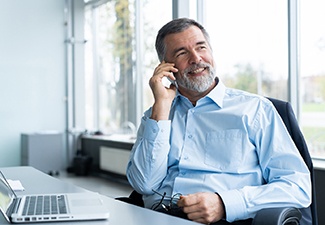 Treatment for dental implants can be broken down into four specific stages. This includes the initial consultation to discuss your needs, the surgery where the implants are placed, a dedicated healing period where the implant integrates, and the final placement of a personalized crown, bridge, or denture. While most dental offices need to refer patients elsewhere for the surgical portion of their implant procedure, Dr. Ayer has the specialized training and experience necessary to smoothly handle many of these procedures right here in our Leawood dentistry practice.
Initial Consultation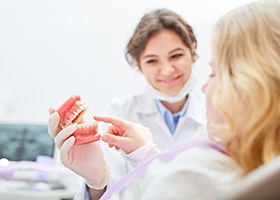 Before any treatment actually begins, Dr. Ayer will need to determine whether or not you're a viable candidate for the implant procedure and what exactly your unique needs are so that he can be sure to approach them in the most ideal way possible. Once we have this vital information, our team can move forward with the first step of the procedure: the actual placement of your new implant or implants.
Dental Implant Surgery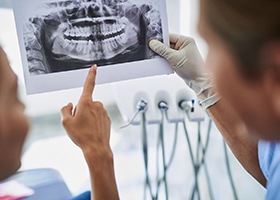 Dr. Ayer or one of his hand selected specialists will carefully and securely insert the implants into your jawbone. The placement is performed under local anesthesia and sedation as needed for your comfort. Your dentist opens the gum tissue and places each dental implant in the most optimal position for secure anchoring. Once the implant(s) have been placed, the gums are closed and recovery begins.
Osseointegration & Abutment Placement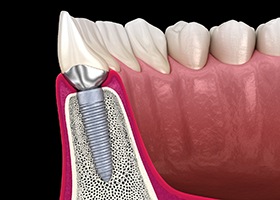 Over a healing period of about three to six months, the implants will slowly form a bond with your natural tissue, creating a solid foundation. This process, known as osseointegration, stabilizes the implant in the mouth for years to come. At some point, we will uncover your implants and attach small posts (called abutments) that will serve as the anchors for your replacement teeth.
Delivery of Final Restoration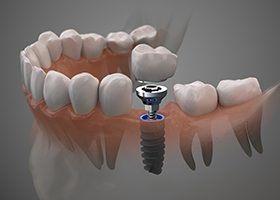 Once the implant and jaw have fused together, the prosthetic tooth/teeth can be affixed on top of the implant(s). This means you'll come back to our office to have the permanent restoration attached. Your restoration is made from natural-looking dental materials that are not only durable, but blend in with your existing teeth.
Benefits of Dental Implants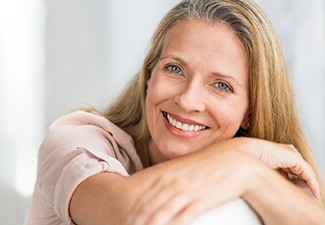 Everyone wants a complete, healthy smile. However, many people lose one or more teeth due to decay, gum disease, trauma, or other unfortunate circumstances. If you have are missing one or two or even all your pearly whites, don't despair! Dental implants are a comprehensive tooth loss solution that come with a long list of benefits, especially when you compare them to traditional bridges and dentures.
Day-to-Day Benefits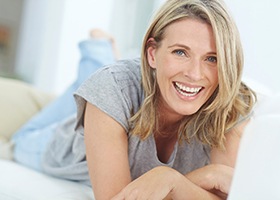 Dental implants are so secure that they'll never slip out of your mouth while you're speaking, and they won't make your gums sore either. In fact, they're so comfortable and lifelike that you might even forget you have them!
Caring for your dental implants on a daily basis is easy. Simply brush them twice a day with a non-abrasive toothbrush, and be sure to floss regularly. It's also important to attend regular checkups with your dentist in Leawood so Dr. Ayer can make sure that all is well. Although your restored teeth cannot develop decay, we'll make sure your gums and your new smile stay healthy.
Health Benefits
Tooth loss often leads to more tooth loss. That's because when one of your teeth leaves its place, the ones that were next to it may begin to drift. This can lead to a misaligned bite, jaw problems, and a lot of extra wear and tear on your poor smile. If you lose a bottom tooth, the one directly above it can even extend too far out of the gum line or fall out altogether. Implants serve as placeholders, helping to keep all of your remaining natural teeth right where they belong.
One of the most outstanding benefits of dental implants is that they are strong enough to stand up to pretty much any food you might be craving. Whether you want to chow down on some crunchy vegetables, dig into that juicy steak, or snack on some popcorn during movie night, you can do so without worry (just be careful not to bite on any solid popcorn kernels).
Long-Term Benefits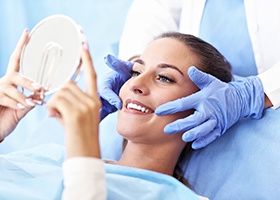 Did you know that traditional dentures need to be replaced every five to eight years or so? That's because the way they fit changes over time as the jawbone deteriorates. Other tooth replacement methods, such as traditional bridges, might only last for 10 years. Dental implants, on the other hand, form a permanent bond with your body and have the potential to last a lifetime.
Who Dental Implants Can Help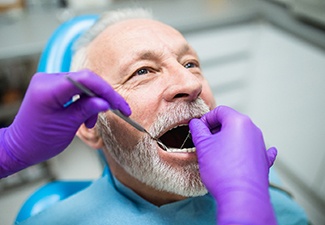 Dental implants are a fantastic solution for any level of tooth loss. Thanks to their versatility, it's relatively straightforward to replace everything from individual teeth to an entire arch all at the same time.
Missing One Tooth
In the case of a single implant, a tooth-colored dental crown will be created to sit atop of the surgically placed implant. This will restore a single missing tooth in a natural and highly functional manner, making it feel as if the tooth was never missing to begin with!
Missing Multiple Teeth
If you need multiple teeth to replenish your smile, a partial or full fixed bridge can be crafted and designed to fill the spaces left by two or more teeth. For a sturdier solution, implant prosthetics are also available.
Missing All Teeth
By using strategically placed implants within the mouth, we can create a permanent foundation with an implant prosthetic, adding much-needed sense of stability and retention that patients struggling with traditional dentures will appreciate.
Understanding the Cost of Dental Implants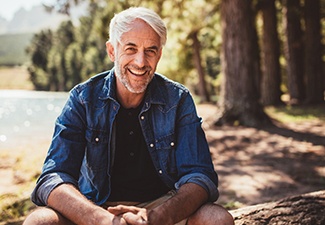 There is no doubt that for many patients, dental implants are the best tooth replacement option. However, this treatment is admittedly a bit on the expensive side. Why do implants cost so much, what might help you afford them, and are they really worth the investment? Let's talk about these important questions so you can make a confident, informed decision about whether dental implants in Leawood are right for you.
The Parts & Type of Your Dental Implant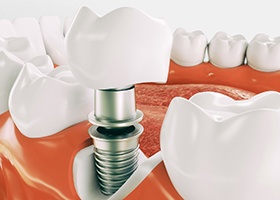 In addition to the implants and their restorations, you may also have to pay for:
Tooth extractions prior to your implant placement surgery
Gum disease treatment to reduce the risk of infection around your implants
A bone graft to make sure the jaw is strong enough to support implants
Sedation to help you remain comfortable during your surgery
Numerous manufacturers create dental implants, and there are a few different types of implants available. Naturally, the quality of the implants as well as how many you need to support your new smile will influence the cost of your procedure. The complexity of the placement surgery and the nature of your restoration (whether it is a crown, bridge, or denture) will also play big roles in the overall price of your treatment.
Why Dental Implants are Worth the Cost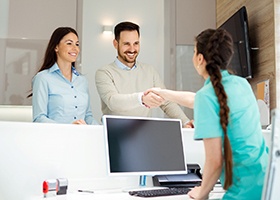 The cost of dental implants in Leawood might make you balk, but they are worth the price! Their strength, stability, longevity, and aesthetic beauty make them far superior to other tooth replacement options. They are a wise investment that has the potential to provide you with a lifetime of healthy, confident smiles.
Does My Dental Insurance Cover Dental Implants?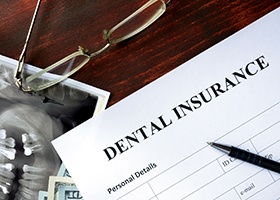 You'll have to check the details of your policy to discover whether it provides coverage for dental implants. Even if it does not cover the implants themselves, it may help with preliminary work. You should also check to see if your medical insurance provides assistance with dental implants.
Making Dental Implants Affordable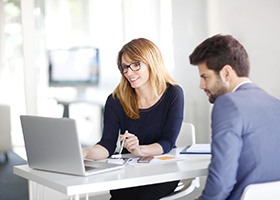 The entire dental implant process takes place over several stages, so you only have to pay for one portion of the treatment at a time. You can use the time between the treatment steps to plan for the next leg of your smile restoration journey.
When we're planning for your new smile, we'll thoroughly discuss your implant options with you and help you understand their costs. Most patients are eligible for low- or no-interest financing that breaks up the price of their new smile into manageable monthly chunks. If you want to take advantage of financing, you should consider how big of a monthly payment you can comfortably fit into your budget.
Maintaining & Caring for Your Dental Implants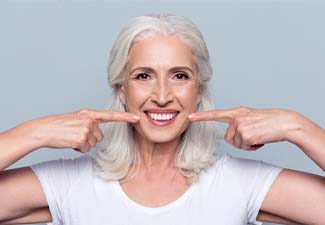 Dental implants can be expected to last for many years with proper care. Your dentist will talk to you in depth about proper maintenance for your specific restoration. In general, make sure you brush your teeth thoroughly twice daily, floss between teeth daily, and visit your dentist for routine checkups. You may want to invest in a water flosser to reach between teeth and around the dental implants, too.