Teeth Whitening - Leawood, KS
Brighten Your Smile By Several Shades
If you are like most adults, you, too, have started to notice the signs of darker, perhaps yellower teeth as you age. Did you know that professional teeth whitening is safe, effective, and easy when you partner with Dr. Dennis C. Ayer? Your trusted dentist in Leawood provides the professional-grade results you want, at the pace you feel comfortable with. Choose from in-office whitening or an at-home treatment and you will soon be smiling bigger -- brighter -- than ever!
Why Choose Dr. Dennis Ayer for Teeth Whitening?
In-Office & Take-Home Professional Whitening Available
Safe, Dramatic Improvements That Far Exceed Store-bought Products
30+ Years Of Clinical Expertise
Why Choose Professional Teeth Whitening?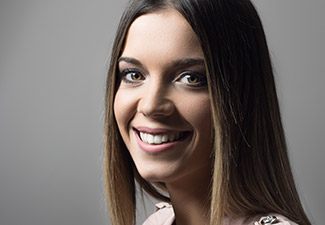 With whitestrips, toothpastes, and even mouth rinses offering dramatic results in as few as seven days, some patients are left wondering if professional teeth whitening is really worth the investment. Yes, a professional cosmetic dental treatment may cost more than what you can buy at the pharmacy -- but nothing offers results as bright or bold as what you can achieve when you partner with your dentist.
Compared to over-the-counter whitening, a professional treatment…
Offers maximum effectiveness
Reduces risk of overuse or abuse
Is applied only onto the tooth enamel, protecting the soft tissues from burns
Is activated right before treatment for better results
Offers results that can last for years with proper maintenance and occasional touchups
For the safest, best results in teeth whitening, partner with Dr. Ayer in Leawood. Our office offers customized in-office and take-home treatments.
Kansas City Deep Bleach: In-Office Whitening for Fast Results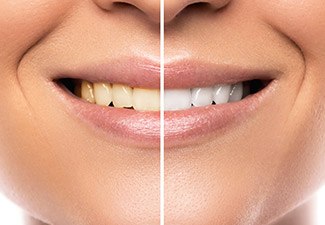 Patients who wish for fast results usually opt for in-office whitening, a treatment that is completed in just one visit to our office. We know that some patients associate teeth whitening with sensitivity, but our approach eliminates that worry. It is a special formula that causes no acute sensitivity or discomfort -- only truly stunning results.
In-office whitening breaks through the outer layer of the teeth to eliminate the stains that live just below the surface. These "intrinsic" stains are impossible to remove with a generic treatment, but Dr. Ayer has over 20 years of experience treating even the most stubborn stains and discoloration with in-office whitening. In just one, one hour visit, the Kansas City Deep Bleach (as we like to call it) reveals teeth up to eight shades brighter.
At-Home Whitening Reveals Results More Gradually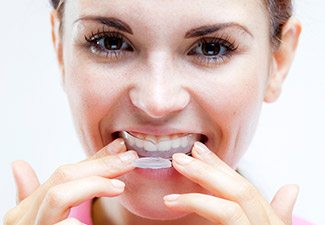 For people who are less concerned with revealing their results quickly, or for those who prefer to whiten from the comfort of their own homes, we are pleased to offer take-home whitening in addition to our in-office treatments. An at-home whitening treatment uses custom-fitted trays, which you fill with the high-powered bleaching gel and wear for the prescribed period of time every night. You will begin to notice some whitening after the very first treatment, but patients are advised to complete the full treatment to enjoy maximum results.
Request an Appointment Today!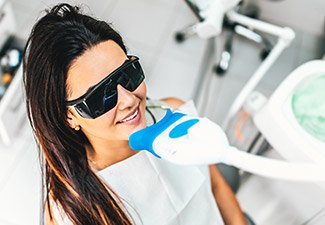 Dr. Ayer and our team can't wait to get started on your brighter, whiter smile. With both in-office and at-home whitening teeth whitening in Leawood available, you can achieve the look you have always dreamed of! Contact our office to schedule an appointment today.