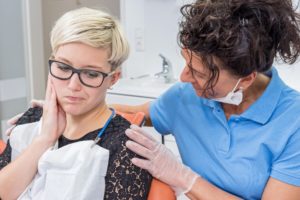 Believe it or not, dental emergencies occur more often than you might realize. In fact, 1 in 6 Americans faces an unexpected oral health issue each year. While there's never a good time for one to occur, having a dental emergency during COVID-19 can make a difficult situation even more stressful. With many practices only open for essential services, you might be wondering what constitutes a dental emergency and if you need to call your dentist? Here's what you need to know to get the dental care you need during COVID-19.

Common Dental Emergencies
No one has time for an unplanned trip to their dentist. Not to mention, you take the risk of COVID-19 exposure if you leave your home. As a result, it is normal to wonder if you really need to see your dentist or if your dental emergency can wait? As with any emergency situation, time is of the utmost importance. Not sure what's considered a dental emergency? The American Dental Association lists them as any potentially life-threatening issue that requires urgent care to stop bleeding, infection, or pain, such as:
Uncontrolled bleeding
Suspected cellulitis or soft tissue bacterial infection
Trauma to facial bones
There are also other situations that require urgent dental care to manage symptoms, such as pain or risk of infection. While they are less severe than those previously mentioned, they still require the treatment of an emergency dentist in Leawood, such as when experiencing:
Severe dental pain or swelling
Knocked-out or dislodged tooth
Third molar pain
Dry socket
Post-operative complications
Abscess
Broken or fractured tooth
Dental trauma
Lost crown or bridge
Can I Prevent a Dental Emergency?
Although you can never fully prevent a dental emergency, you can significantly reduce your risk of one by following a few simple tips:
Commit to brushing your teeth twice a day for 2-minutes each session.
Floss in between each tooth daily before going to bed.
Wear an athletic mouthguard while playing sports.
Don't use your teeth as tools to open packages.
Don't chew on inedible objects.
Don't bite or chew overly hard foods, like ice.
Visit your dentist at least twice a year for a cleaning and checkup.
Don't Wait to Call Your Dentist
If you experience a dental emergency, don't wait to contact your dentist. Even with the COVID-19 precautions, you can get the prompt care you need to save your tooth.
About Dr. Dennis C. Ayer
Dr. Dennis C. Ayer strives to provide comprehensive dental care to families in the community. He believes in always being there for his patients, even during times of emergency. If you need to see a dentist right away, our office is taking extra precautions to keep our patients safe. Dr. Ayer will treat your tooth while keeping your health an utmost priority. If you have a dental emergency, contact our office right away for an appointment.