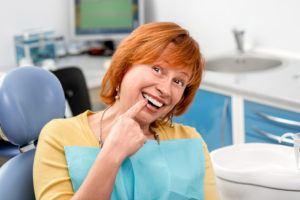 As we age, our bodies change, and one change experienced by many women in the US is the development of osteoporosis. Research is being conducted into early indicators of this chronic illness that leads to a slow diminishment in the density of the skeletal structure. As the bone density decreases, patients can experience numerous health and mobility issues. Women are almost twice as likely to suffer from osteoporosis as men. If you suffer from osteoporosis and you've experienced advanced tooth loss, you may think that dental implants are not an option to renew your smile, but recent studies indicate that patients with osteoporosis may have excellent implant success with proper treatment.

1 – You Should Still Consider Dental Implants
Many women who suffer from osteoporosis assume they will not be candidates for dental implant supported tooth replacements. However, recent research shows that implant supported restorations may actually benefit patients with osteoporosis by stimulating the jaw and gum tissue and preventing the degradation of jawbone density.
2 – Studies Show that Osteoporosis Medications Don't Impede Placement
In the early years of dental implant restoration, doctors thought that medications for osteoporosis may hinder the ability of dental implant posts to fuse with the jawbone. These medications essentially freeze the bone tissue to prevent further loss of bone density, but it was initially believed this would prevent successful dental implant placement. However, recent studies showed that immediate implant placement after tooth extraction or loss lead to a success rate between 93 and 98% for most patients with osteoporosis.
3 – Your Dentist & Physician Need to Communicate
The most important thing to keep in mind is that you need to be communicating with your medical doctor and your dentist. In most cases, your dentist and physician should communicate about your condition, medications, and whether or not they consider you healthy enough to successfully complete implant placement. Additionally, your medical doctor should be part of the process of monitoring healing following the placement of dental implants.
Meet Dr. Ayer
At the Leawood dental office of Dennis C. Ayer, DDS, we're here to help with all of your oral health and hygiene needs. From dental checkups and cleanings to advanced tooth replacement solutions, Dr. Ayer and his dedicated dentistry team have years of experience offering comfortable, effective dental care. We view your oral health and all dentistry plans from a whole health perspective and take into consideration how any treatment will impact your oral and overall health. If you want to learn more about dental care and osteoporosis or any of our dentistry services, contact our Leawood dental office today.