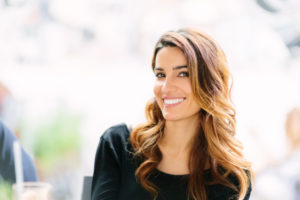 Last week, did you resolve to go to the gym more, or to eat better? Well, we'd like to let you in on a little fact — nothing ages your appearance like dingy, discolored teeth. If you're interested in looking and feeling better in 2016, why don't you check out teeth whitening in Leawood KS? It's a quick, affordable way to rejuvenate your smile and enter the new year with a newfound confidence. Keep reading to learn more from the office of Dennis C. Ayer, DDS.
Enhance Your Smile with Teeth Whitening in Leawood KS
Teeth whitening is one of the most popular treatments in cosmetic dentistry today, and it's no wonder why. With amazing results achieved in one day at the minimum and just two weeks at the very most, it's truly the most accessible, simplest way to achieve a beautiful smile.
There's no way to prevent teeth from darkening with age, but in-office and at-home whitening kits help to reverse the signs of age and give you back the youthful smile you deserve.
In-Office Whitening in Leawood: The Kansas City Deep Bleach
Often, dental offices will offer a whitening solution that's so powerful even the hardiest patients experience extreme tooth sensitivity — and nothing frustrates Dr. Ayer more than these short-sighted, unsuccessful treatment options. That's why he's proud to offer his patients the proven, effective Kansas City Deep Bleach. More effective than any other, there's no danger of acute sensitivity or discomfort with this option. In fact, the only thing our patients notice after a Kansas City Deep Bleach is their new, dazzling smile!
At-Home Whitening Treatments: Beautiful Results, Gradually
For patients who prefer to whiten at their own pace or from the privacy of their own home, our practice trusts a professional-grade take-home whitening treatment. Its custom-fit trays hold the powerful whitening gel close to your teeth; just wear them for the recommended amount of time each day and you'll start to notice whiter teeth after the very first treatment, with full results visible after two weeks.
Trust Your Teeth Whitening to a Professional in 2016
With so many over-the-counter whitening treatments available, it can be tempting to pop into the drugstore after work on your quest for a brighter smile. But we want to remind you that when it comes to smile improvements, you should trust your smile to the professionals who know best. While teeth whitening is a completely safe, trusted treatment, it should always be carried out under the eye of a dentist.
Plus, the one-size-fits-all kits you buy at the pharmacy just aren't as powerful as a professional solution. And we know that when you're paying for something like teeth whitening, you want real results — so contact your family dentist in Leawood KS to get started on your teeth whitening in 2016.