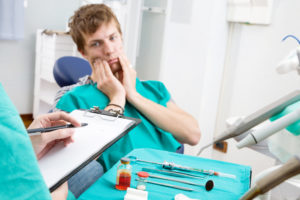 If we conducted a dental poll with our patients regarding their oral care, there's no doubt about one thing: the most dreaded dental procedure would definitely be a root canal in Leawood, KS. It's funny, though, because anyone who's ever had root canal therapy knows that the actual procedure is nothing compared to the pain of the original toothache. In fact, a root canal procedure is a relatively fast, simple treatment that restores your tooth to its original strength. Learn more about the treatment from Dr. Ayer today!
Root Canal: A Necessary Restoration (That's Not As Bad As You Think)
When you undergo a root canal treatment with Dr. Ayer in Leawood, you can feel confident knowing he'll do his best to make you feel completely at ease throughout the whole procedure. That includes discussing the process with you, step-by-step, so you know what's going on throughout the treatment. And don't worry that your dentistry jitters will get in the way of a successful treatment — DCA also offers nitrous oxide to relieve any leftover anxiety.
The Root Canal Procedure in Leawood, KS
You know that Dr. Ayer will talk to you about what to expect throughout the root canal procedure, but we thought it would be helpful to share the information on our blog, too. Here's what happens during root canal therapy at DCA.
First, Dr. Ayer will take x-rays and put together a treatment plan for your root canal therapy.

A local anaesthetic is administered at the treatment site to ensure you don't feel any pain in your mouth.

To begin the procedure, Dr. Ayer will clean out the tooth. That means he will drill a hole into the tooth to remove the pulp, bacteria, decayed nerve and any related debris.

Once the tooth has been completely cleaned, Dr. Ayer will then seal it with a filling. Keep in mind that this step that may be carried over to a second appointment if the tooth was severely decayed.
How To Care for Your Mouth After a Root Canal
Once your root canal therapy is complete, we'd like to say congratulations! You're on your way to a healthy, pain free smile once again. Your tooth may feel sensitive in the days following your procedure, but the discomfort is usually easily managed with an over-the-counter pain medication. An ice pack applied in 15-minute intervals can also help to reduce any swelling.
Schedule Your Appointment with Dr. Ayer Today
If you've got a severely decayed tooth that you know needs attention, or if it's been more than six months since your last dental checkup, please get in touch with us to schedule your appointment. We're passionate about providing the absolute best in Leawood, KS dental care — call us today!