Missing One Tooth – Leawood, KS
Rebuild your smile from a root to crown
When you were a child, losing a tooth was usually a cause for celebration. As an adult, however, a missing tooth can lead to a variety of problems—and they are often problems that will not go away with time. In fact, many get worse, such as tooth decay, periodontal disease or an uncomfortable bite due to shifting teeth. Consequently, tooth replacement is imperative. Dr. Ayer will be glad to speak to you about replacing a missing tooth with a dental implant in Leawood. Read on to learn more about tooth replacement and the benefits of dental implants.
Replace a Single Missing Tooth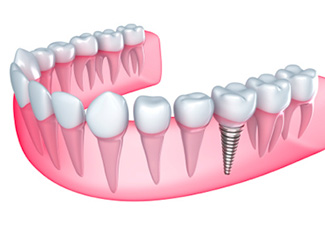 If you are missing one tooth in Leawood, you can replace it with either a fixed bridge or a dental implant.
A fixed bridge is also called a crown and bridge. This prosthetic is made up of one false tooth that sits between two dental crowns. The crowns are mounted on top of healthy teeth next to the gap in your smile. In this way, the false tooth is held securely in place. The false tooth and crowns of a bridge are fabricated as a single unit that is bonded into place at one time. In addition to rebuilding your smile, a bridge restores dental function and prevents adjacent teeth from shifting into the vacant space.
Alternatively, you could choose a dental implant. Unlike a fixed bridge, a single tooth dental implant replaces both the root and crown of one missing tooth. An implant is a small post made of titanium, a biocompatible metal. The implant is surgically positioned in your jawbone. It holds the crown restoration in place and helps your jawbone remain healthy and strong. To implant the post, an incision is made in your gums to expose the bone. Then, a small section of bone is removed and the post is set in place. Your gums will heal in a few weeks, but the post and surrounding bone tissue will take several months to fuse together. Once this happens, the dental crown can be attached to the post and the replacement tooth will look and feel just like one of your natural teeth.
The Benefits of a Dental Implant to Replace One Missing Tooth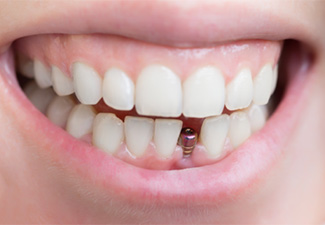 Dental implants offer benefits that a crown and bridge cannot:
Implants are stand-alone replacements that don't necessitate removing some of the structure of adjacent teeth like a traditional bridge.
Implants keep you jaw healthy by stimulating healthy new bone tissue growth and drawing nutrients and blood flow to the area
Because dental implants replace both root and crown, they look and perform more like natural teeth
With good oral hygiene care at home and regularly scheduled dental checkups, implants can last for decades or even your entire life; a bridge needs maintenance and eventual replacement
Contact Dr. Ayer Today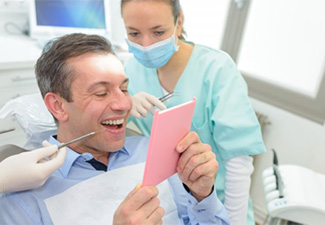 If you are missing one tooth, call Dr. Ayer today. A dental implant will help you avoid many other dental problems and restore your attractive smile.