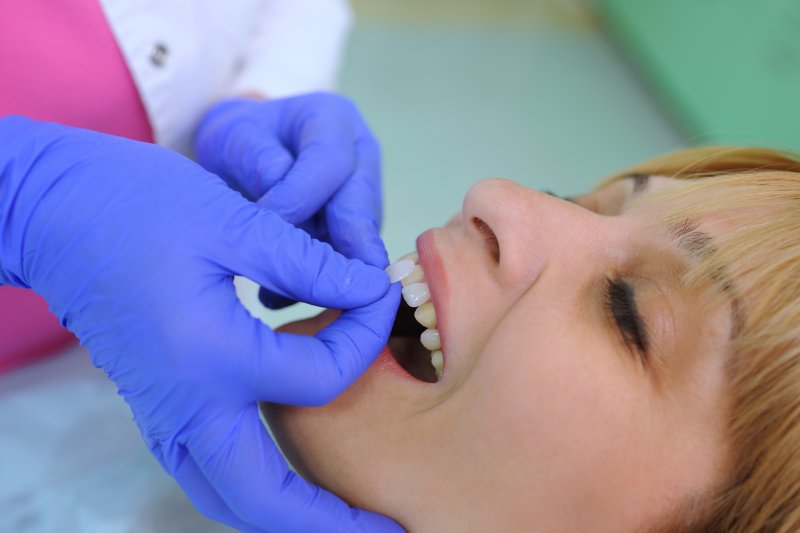 If you enjoy cosmetic dentistry, you've likely heard of porcelain veneers. The latter can revamp your grin from the ground up! Still, did you know there are other dental veneer materials? It's true – these shells don't have to be made of porcelain. You can get different kinds that rely on varying substances. Naturally, your Leawood dentist is happy to explain more. To that end, here are four veneer materials besides the standard porcelain.
E-Max Veneers
Also known as lithium disilicate glass, E-max is a special type of ceramic. Veneers made from it are well-known for their aesthetics, strength, and durability.
Generally, E-max veneers' most notable trait is their longevity. These shells can last more than ten years without any complications. In fact, a 2017 study found that E-max veneers had an 83.5% survival rate after ten years. Such long-lasting results are mainly due to E-max's stain resistance.
Of course, E-max veneers have their downsides. Applying them can take a lengthy amount of time. Plus, E-max is prone to chipping and fracturing.
Zirconia Veneers
To be clear, zirconia is one of the toughest ceramics you can find. Therefore, it makes for highly durable veneers.
Zirconia veneers are usually quite pretty. Thanks to their opaque looks, they have a dramatic effect on teeth. These veneers are thus suited for fixing stubborn stains and discoloration. At the same time, they can also provide high strength to your smile.
On the other hand, some think zirconia veneers are too opaque. They could make one's teeth look a tad unnatural.
Lumineer™ Veneers
Rather than standard porcelain, some veneers are made from Cerinate porcelain – an extremely patented and robust type. Such kinds are called Lumineers™.
Otherwise called no-prep veneers, Lumineers™ are known for their convenience. Dentists can place them in a single visit with minimal preparation. As for why, the shells are highly thin and compact. They're thus ideal for people who don't want invasive procedures.
That said, Lumineers™ do have their negatives. They don't always cover stains as well as other veneers. Furthermore, they can easily fracture and chip.
Composite Veneers
As it happens, some dental shells are made of resin – a tooth-colored restoration material. These are considered composite veneers.
Similar to Lumineers™, composite veneers are easy to place. They're cheaper and quicker than ones made of regular porcelain. In particular, they have a better success rate on the front teeth instead of the posterior kind. Sadly, though, composite veneers also have a shorter life.
Porcelain veneers are popular, but the other dental veneer materials are worth weighing. Consider the four above as you look to improve your smile.
About the Author
Dr. Dennis C. Ayer is a dentist based in Leawood, KS. Having earned his DDS from the University of Missouri-Kansas City School of Dentistry, he's practiced truly great dentistry for nearly 30 years! As such, the man is well-versed in preventive, cosmetic, and restorative services, as well as emergency dental care. Today, Dr. Ayer currently practices at his self-titled clinic and is reachable on his website and by phone at (913)-246-3000.