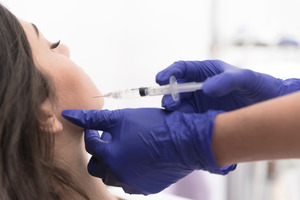 When you're told that your jaw pain is the result of a TMJ disorder, your natural reaction will be to try and find a solution. While you're exploring your treatment options, you may find multiple experts recommending BOTOX. This can sound like an odd idea at first; after all, isn't BOTOX used to get rid of wrinkles? How can it help relieve your TMJ-related discomfort? Your dentist is here to explain.
What is a TMJ Disorder?
Having a TMJ disorder means that something has gone wrong with the temporomandibular joints (TMJs) that allow you to move your lower jawbone. What causes a TMJ disorder isn't always clear, but in many cases, it is often the result of the joints and the muscles around them being overworked due to unconscious clenching and grinding. Aside from jaw pain, other symptoms that can point toward a TMJ disorder include:
Earaches.
Headaches.
Having difficulty chewing.
Aching facial pain.
Locked jaw joints.
How Can BOTOX Help?
BOTOX injections utilize botulinum toxin, which can block the nerves in your muscles from sending signals to the brain. This prevents said muscles from contracting or tensing up unconsciously, giving them a chance to relax.
By getting a BOTOX injection for your jaw joints, you can put a stop to the clenching and grinding that can contribute to a TMJ disorder. Giving the joints a chance to rest can go a long way toward relieving your pain.
Of course, it is important to remember that BOTOX wears off after a while, so it shouldn't be considered a permanent solution. Additional treatments will be needed if you want to address the underlying cause of your TMJ disorder; BOTOX simply reduces your discomfort in the meantime.
What Does the Process of Treating TMJ Disorder with BOTOX Look Like?
Your initial BOTOX appointment will be very brief. In fact, in some cases, it may only take around half an hour. A number of injections will be made in the area around the affected joints. You won't need to take time off to recover; you can simply head straight back to work once your appointment is finished.
You don't want to inadvertently spread the toxin to other parts of your face, so you'll need to avoid lying down or touching the injection site for a while. It will take some time for the full effects of your BOTOX treatment to become obvious, although many patients notice an improvement after just two days.
Ignoring your TMJ disorder for too long means forcing yourself to live with the discomfort it causes. If you're ready for relief, talk to your dentist as soon as possible to ask about BOTOX.
About the Author
Dr. Dennis C. Ayer studied dentistry at the University of Missouri-Kansas City School of Dentistry. He has more than 30 years of dental experience under his belt. Being certified in BOTOX, he is able to offer it as a cosmetic solution as well as a treatment for TMJ disorder. To schedule a consultation with Dr. Ayer at his Leawood practice, visit his website or call (913) 246-3000.