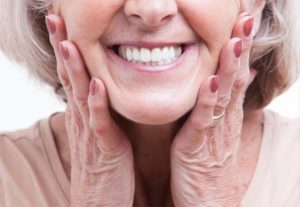 Now, more than ever, modern technology has made dentures more lifelike, comfortable, and aesthetically pleasing. In addition, they can effectively restore the function of your natural teeth. They are a viable tooth loss solution option for many people. However, receiving dentures is still a process, especially if you have to undergo tooth extractions. Read on to learn from your dentist in Leawood about the expected timeline!
How Long Does it Take for Tooth Extractions to Heal?
While everyone's oral health varies, it generally takes anywhere from six to eight weeks for wounds to close after tooth extractions. It does take much longer for the jaw bones to heal—usually anywhere from six to eight months after the initial procedure.
How Long Before I Can Get Dentures After Tooth Extractions?
To begin with, the first set of dentures you receive will be temporary. They will help your dentist to gauge what adjustments will need to be made for your more permanent set. In some cases, you will receive temporary dentures to prevent your smile from looking incomplete while you heal. These restorations will also help preserve the strength of your jawbone and the shape of your mouth. Additionally, temporary dentures will allow you to get used to eating and speaking with your renewed smile.
Since it usually takes six to eight weeks for your mouth to heal after undergoing tooth extractions, this is often the average amount of time to wait to get your permanent dentures. However, some dentists can offer immediate dentures, which can be administered the same day you get your teeth extracted. These won't get in the way of the healing process and are a quick way to restore your pearly whites. It will depend on your particular oral health needs and goals. You can always wait a few months for the wounds to close before you get your initial prosthetic. Your dentures will likely feel a little bit more comfortable; you'll have to go a few weeks without a complete smile.
What About Implant Dentures?
If your desire extra support and permanence for your new teeth, implant dentures may be the right option for you. By inserting biocompatible steel posts into your gums, they replace your teeth from root to crown. They will fuse with the jaw over the next four to six months, giving you a stable and long-lasting prosthetic.
There are a few possibilities for when the implants will be placed, such as:
Immediate placement – Your dentist will insert the implants right after extracting the teeth. Your jaw and gums will need to be healthy and strong enough for this option.
Early placement – As the most recommended option, the implant dentures will be placed within a few months of extraction. If a bone graft is needed to strengthen the jawbone, it would be performed during this period.
Delayed placement – Though it is possible to be a candidate for implants much later after your teeth have been removed, those who delay placement beyond six months will likely experience bone loss in the extraction area as well as other complications.
If you have more than one missing tooth, dentures can be a wonderful solution to complete your smile. With a bit of patience and guidance from your dentist, it will be well worth the wait!
About the Author
Dr. Dennis C. Ayer has been keeping the smiles of Leawood whole and healthy for almost 40 years! He earned his dental degree from the University of Missouri-Kansas City School of Dentistry and has over 3,500 hours of continuing education. With a strong dedication to high-quality, compassionate care, he offers a full range of dental services, including dentures. To schedule an appointment, contact him through his website or call (913) 246-3000.