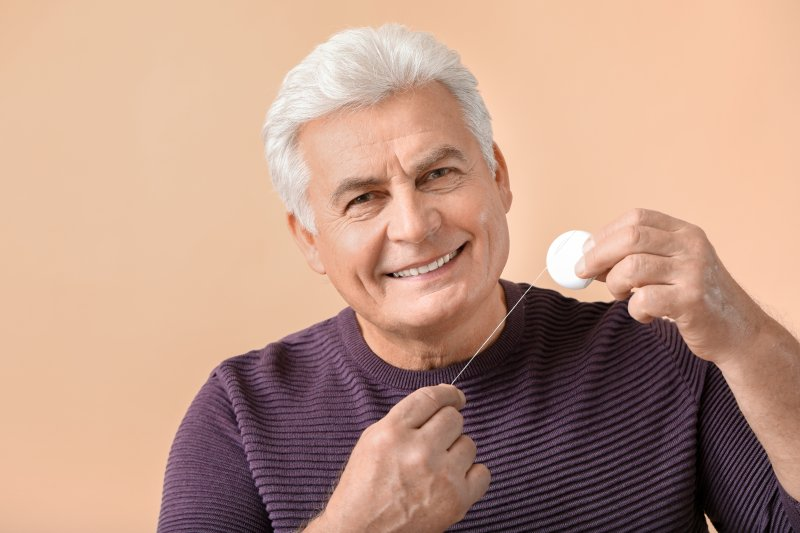 Once you get dental implants, you will do a lot of things differently. You'll laugh differently, you'll smile differently, and you'll eat differently. That's because doing those things will be easier than it's been in years. There are, however, some new challenges you must adapt to. Flossing dental implants is one of them. Flossing is critical to your oral health, but doing it improperly could potentially do serious damage. Here's what you need to know to clean your dental implants correctly.
Reminder: Flossing is Important
First, let's state the obvious: You need to floss. Along with thorough brushing it's the best way to prevent bacterial buildup between your teeth, which is especially important for people with dental implants. If ignored, the bacteria could get underneath your gums, causing an infection known as peri-implantitis. In severe cases, your implant could need to be removed and replaced. Ensuring that the area between your teeth stays clean is therefore essential.
Why You Need to Change the Way You Floss with Dental Implants
There are a few reasons why people with implants have to be more careful. First, improper flossing can leave behind shreds that could become vectors for infection.
Second, and more importantly, you could potentially break the connection between your implant and your gums. Natural teeth are adhered by the periodontal ligament, meaning that even if you use a lot of pressure, healthy teeth are unlikely to come loose. There are also nerves connected to this small tendon, so you'd experience a lot of pain before you did any lasting harm.
Implants, on the other hand, are attached by what's called a peri-implant seal. This seal is significantly weaker than the natural ligament and isn't connected to any nerve endings. You could easily destroy it without knowing, allowing bacteria to flood into the gum pocket. This means peri-implantitis, bone loss, and potentially the loss of your implant.
The Secret to Flossing your Implants
So, how are you supposed to make sure your mouth stays clean? The most important thing is to be careful. The peri-implant seal can be broken easily if you aren't paying attention. Be conscious of how much pressure you're applying, and never floss inside the gum pocket.
If you have trouble, there several devices that can help. Floss threaders, for example, can serve as a handy guide that can keep you from doing any harm to your gums. There are also water picks, which can be a gentler alternative. These have been proven to produce good results and are much less likely to do damage than other methods.
Once you're aware of the risks, it really isn't that difficult to make sure your implants are clean. Like everything else, it just takes a little bit of time to get comfortable again.
About the Author
Dr. Dennis C. Ayer is an expert cosmetic and family dentist who has practiced in Kansas for nearly forty years. He has completed over 3,500 hours of post-graduate education and takes pride in his dedication to patient-centered care. If you have any questions about dental implants, Dr. Ayer can be reached at his website, or by phone at (913) 246-3000.