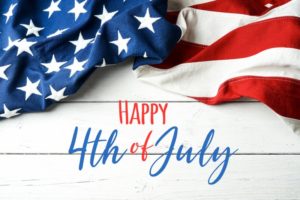 This weekend, people around the country are going to come together for BBQs and fireworks to celebrate America, with the theme of "freedom" being especially important after a year like 2020. In addition to the Declaration of Independence, the Constitution's "Bill of Rights" is also an extremely important part of why we're honoring our country. When you visit your dentist in Leawood, Dr. Dennis Ayer, you're also entitled to a "Patient Bill of Rights," and you can learn more about it and how it will guarantee a great visit every time you step through our doors.
Dr. Ayer's Dental Patient's Bill of Rights
You have the right to be greeted with a smile and treated with the utmost respect and care by our dedicated team of professionals.
You have the right to have any dental treatment fully explained in plain language before you agree to it, and all of your questions will be answered until you feel satisfied and comfortable.
You have the right to dental care that is provided using the highest quality materials, techniques, and technology.
You have the right to complete comfort before, during, and after your treatment. If there is anything we can do to improve your experience, just let us know, and we'll make it happen.
You have the right to know the out-of-pocket cost for a treatment before you get it, and this includes an estimate of your coverage if you have dental insurance. You will never be surprised by a bill.
You have the right to be treated in a clean office that utilizes hospital-grade sterilization, appropriate PPE, and follows and exceeds all health and safety guidelines recommended by the ADA and OSHA.
You have the right to be seen immediately if you experience a dental emergency. We will do everything we can to get you in and stop your pain.
You have the right to ask questions about your home care and be educated about the most effective ways to keep your teeth and gums healthy. We will also make recommendations as to which products you and your family members should be using.
You have the right to be treated by a team that is constantly moving forward, keeping up with the latest dental advancements through continuing education. When you come to see us, you can trust that you are only experiencing the best of the best.
You have the right to remain silent, especially if we are working in your mouth (just a little joke…we know we tend to ask questions when patients aren't always able to answer clearly)!
Just like the real Bill of Rights, our Patient Bill of Rights offers peace of mind, letting you know that you'll enjoy world-class care and service each time you go to the dentist. Dr. Ayer and our team hope you have a fun and safe Independence Day holiday, and if you have any questions or would like to schedule an appointment with our office, click here.