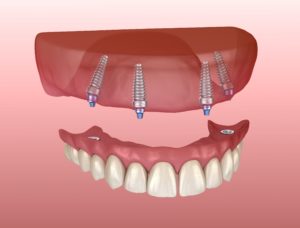 Your teeth are important for more than just a beautiful smile. They are also crucial for your oral and general health. If you've suffered significant tooth loss, your quality of life and self-esteem have also likely declined. To restore your smile, you've probably given dentures a try. Despite your high expectations, you might have been disappointed with their fit and functions. You don't need to struggle with their limitations. You can stabilize your denture with dental implants. While you've heard about their benefits, are implant dentures in Leawood really any different? Yes! Here's how you can regain a nearly perfect replica of your real teeth.
Traditional Denture VS Implant Denture
A traditional denture has an acrylic gum-colored base that holds prosthetic teeth. It rests on top of your gum tissue and is held in place using suction or an adhesive. Although dentures have undergone several improvements over the years, they will never quite feel natural, and they come with many disadvantages.
Implant dentures resolve the common complaints of the traditional method. 4 to 10 dental implants are placed into your jawbone to serve as new tooth roots. Your denture is attached to them using special fixtures called abutments to provide unmatched support and stability.
Benefits of Implant Dentures
Since dental implants act as tooth roots, they provide a variety of advantages that can't be achieved with a regular full denture, such as:
High Success Rate: With the right care, dental implants have over a 95% success rate.
Permanent Results: Unlike a traditional denture that needs to be replaced every few years, an implant denture can thrive for decades.
Preserves Your Jawbone: The implant posts mimic your roots to stimulate new bone growth to preserve your jaw's density.
No Slipping or Irritation: You will regain as much as 70% of your natural biting force by eliminating any slipping or irritation.
Cost-Effective: Although you'll pay more for dental implants upfront, they are the most cost-effective because they should never need to be replaced.
Improves Oral Health: Keeping your jawbone strong will prevent many common issues associated with missing teeth.
Look Younger: A strong jawbone and implant denture support your facial tissues to prevent premature wrinkles and sagging skin.
Easy Maintenance: You won't need to worry about messy adhesives or expensive cleaning products because you'll care for your dental implants just as you would your real teeth.
Discover the Difference Today
If you're not satisfied with your traditional denture, it's time to experience the difference with dental implants. You'll invest in the most reliable solution to treat tooth loss, so you can chew, speak, and smile confidently.
About Dr. Dennis C. Ayer
Dr. Ayer earned his dental degree from the University of Missouri-Kansas City School of Dentistry and has completed additional training in advanced dentistry, like dental implants. He has over 3,500 hours of continuing education, allowing him to treat complex oral health issues. If you're ready to replace your missing teeth, contact our office today to see if dental implants are right for you.