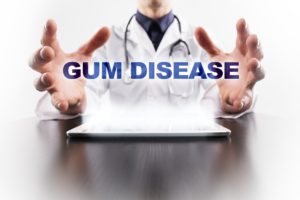 Amid the COVID-19 pandemic, you've made several changes to stop the spread of the virus, like wearing a facemask and using hand sanitizer frequently. Although both will reduce your chance of illness, new research suggests a link between gum disease and COVID. According to a report in "The Mouth COVID Connection," a study found hospitalized patients with coronavirus and underlying gum disease had a higher likeliness of respiratory failure. In addition, gum disease is also linked to increasing the risk of cardiovascular disease. Your dentist in Leawood recommends committing to your gum health to promote a healthy mouth and body.
Gum Disease and COVID-19 Connection
Gum disease is an infection in the gingival tissue caused by bacteria found in plaque and tartar buildup. Although it's preventable, at least 50% of Americans have it. While it can be treated easily during the earliest stage, gingivitis, many people don't recognize the signs of the infection. As a result, it progresses in severity, which can lead to bone and tooth loss.
According to a study published in the Journal of the California Dental Association, researchers found patients with COVID-19 who have elevated gum disease are at the greatest risk of developing life-threatening respiratory problems. Another study from Germany found coronavirus patients with gum disease were also more likely to need a ventilator to breathe.
Besides respiratory issues, untreated gum disease is also connected to cardiovascular disease. In fact, people who have the infection have as much as 3 times the risk of having a cardiovascular event. Previous research has found patients with heart disease to be at a greater potential of developing serious challenges from COVID.
Protect Your Gum Health
With the latest discovery connecting gum disease and COVID complications, it's more important than ever to commit to your oral health. You'll keep your gums healthy to lower the risk of heart disease and severe COVID symptoms. Your dentist recommends following a few simple tips to protect your gum health:
Use a soft-bristled toothbrush and nonabrasive toothpaste to clean your teeth.
Brush your teeth for at least 2 minutes in the morning and at night.
Use high-quality dental floss to clean between each tooth daily.
Don't ignore the early warning signs of gum disease, like red, swollen, or bleeding gums.
Don't smoke.
Don't drink alcohol in excess.
Visit your dentist at least twice a year for a cleaning and checkup.
Invest in a Healthy Smile
As we work together to fight the COVID crisis and in honor of Heart Health Month, take the time to commit to your oral hygiene to invest in a healthy smile. You'll protect your teeth and gums while promoting your general wellness.
About Dr. Dennis C. Ayer
Dr. Ayer earned his dental degree at the University of Missouri-Kansas City School of Dentistry. He's committed to providing safe care for his patients. He uses the latest COVID dental safety protocols in Leawood, so you can enjoy the services you need in a clean environment. If you have signs of gum disease, contact our office today to schedule an appointment.