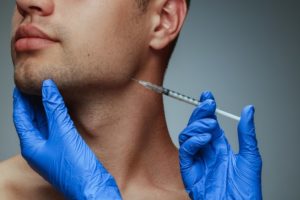 Many estheticians, dentists, and doctors introduce usually mention BOTOX and dermal fillers alongside each other, which can make them seem like they offer the same results. However, they're completely different cosmetic procedures that are used to address separate types of facial imperfections. If you're trying to choose between BOTOX or dermal fillers in Leawood, read below to find out which types of injections would work best to help you achieve your ideal results.
What is BOTOX?
BOTOX is the brand name of a diluted substance called botulinum toxin. It can be injected into certain overworked muscles that are bunched-up from frowning and making other facial expressions to allow them to relax and minimize the appearance of wrinkles and fine lines. It's best known for treating crow's feet, frown lines, crossed eyes, and has even been used to help minimize the tension and pressure on jaw joints. Once injected, the results become most apparent within a week or two.
What are Dermal Fillers?
One of the most commonly used brands of dermal fillers is Juvéderm. Similarly to BOTOX, these injections help restore the youthful, full appearance of your face and can even minimize scarring. Their purpose is to restore lost collagen in areas like the cheeks and lips to make them appear subtly plumper. Unlike BOTOX injections, dermal fillers don't have affect your facial muscles.
Making the Best Choice Between BOTOX & Dermal Fillers
The most important factor to consider before you visit your cosmetic dentist in Leawood for BOTOX or dermal filler injections is what signs of aging you want to address. BOTOX injections are the best options if you want to reduce the appearance of wrinkles and fine lines on your face as a result of aging, among other specialized uses. They're great for areas around the eyes, mouth, and forehead. Dermal fillers are ideal for wrinkles, scarring, and sunken-in features that have developed due to a loss of collagen beneath the skin, which gives a fuller appearance. If you want to lift your cheeks, chin, nose, or address marionette lines, this may be the better option for you.
To help you decide what type of injection will allow you to achieve your ideal facial appearance, it's best to consult with your cosmetic dentist. Let them know what you're hoping to achieve out of treatment, what areas of your face you'd like to enhance, and your thoughts about what treatment may be best for your needs. From there, they can make recommendations and provide you with helpful information so you make the best decision.
About the Author
Dr. Dennis Ayers has been providing high-quality cosmetic dentistry and facial esthetics to Leawood since 1984. He has completed advanced education in a variety of specialized treatments, including BOTOX and dermal fillers, and he is a member of the American Academy of Facial Esthetics. He is passionate about helping his patients enhance their smiles and overall appearance so they can enjoy a boost of confidence. For questions or to schedule a consultation, visit Dennis C. Ayers, DDS, LLC's website or call 913-246-3000.