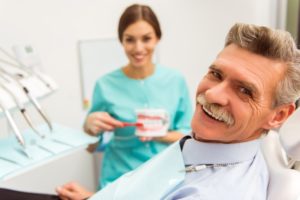 It's no secret that good oral health is vital to having great overall health. Dental health problems like gum disease have been linked to issues like type 2 diabetes and cardiovascular disease. Unfortunately, the risk of these problems increases with age. In fact, more than 27% of people over the age of 65 don't have any of their natural teeth left! Missing teeth can make it difficult to enjoy a varied diet of nutritious foods, resulting in further health complications. That's why, if you have a loved one in an assisted living center, you should make sure they take care of their oral health. A dentist for seniors in Leawood explains the importance of regular dental care for senior citizens.
Routine Checkups Can Prevent & Treat Issues Early
Twice-a-year dental checkups and cleanings are important for people of all ages, but as one gets older, tooth enamel becomes thin and the gums recede, increasing the risk for oral health issues. Luckily, periodic dental visits allow these problems to be caught and addressed early on or even prevented altogether. These appointments are often fully covered by most dental insurance plans, including Medicaid.
During biannual checkups, the dentist will closely examine your loved one's mouth for warning signs of cavities, gum disease, oral cancer, and more. The sooner these issues are spotted, the easier (and less expensive) they are to treat.
Keep the Teeth & Gums Healthy
Seeing a dentist every six months is only half the battle in maintaining excellent senior oral health in Leawood. At-home oral hygiene is also critical. Brushing twice a day with a fluoridated toothpaste can keep teeth clean and strong. Flossing at least once daily removes food debris and plaque from between the teeth. Make sure your loved one eats a diet low in sugars to minimize the risk of tooth decay.
Look for Ways to Replace Lost Teeth
Missing teeth can make everyday tasks like eating, speaking, and even smiling uncomfortable or downright impossible. While dentures have long been the standard for replacing lost teeth, most dentists these days will recommend dental implants instead. Because these titanium posts are placed inside the jawbone, they provide stability, strength, and longevity that dentures just cannot deliver.
Maintaining great oral health helps seniors in assisted living centers enjoy a higher quality of life. By making sure your loved one takes good care of their mouth, they can enjoy the beautiful, healthy smiles they deserve.
About the Author
Dr. Dennis Ayer has over 30 years of experience providing affordable, quality dental care to Leawood, KS and the surrounding communities. He is in-network with many major dental insurance plans, including Delta, Aetna, BlueCross BlueShield, MetLife, and more. Alternatively, he offers an in-house membership plan to help you save on dental care. To learn more about how to help your loved one in assisted living keep up with their oral health, visit Dr. Ayer's website or call 913-246-3000.