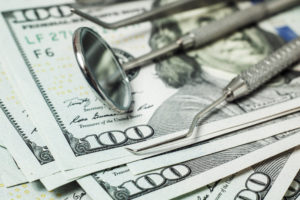 Between preparing for Thanksgiving and doing some early holiday shopping, visiting your dentist may not be high on your priority list. However, if you do not take action soon, your dental insurance benefits will likely expire! Insurance coverage typically does not roll over from one year to the next. You pay your insurance premium every month, so you shouldn't let any remaining benefits go to waste. Fortunately, there is still time to act. Here are 5 tips from a dentist in Leawood on how to maximize your dental insurance benefits before the end of the year.
#1: Learn How Dental Insurance Works
Understanding the details of your insurance coverage can help you maximize your benefits. Although every plan is slightly different, most dental insurance policies follow the 100-80-50 structure:
Preventive Services – Routine dental exams, cleanings and dental X-rays are almost always covered at 100%.
Basic Services – Common procedures such as dental fillings and simple tooth extractions are typically covered at around 80%.
Major Services – Crowns, bridges, dentures, and root canals are often covered at 50%.
#2: Don't Waste Your Deductible
A deductible is the amount of money you must pay out of your own pocket for oral care before your dental insurance kicks in. If you have already met your deductible this year, do not wait to pursue the dental treatment that you need! Most deductibles reset on January 1st, so it makes financial sense to use any remaining benefits before the end of the year. If you put off treatment until 2021, you will likely have to pay your deductible again before you can take advantage of your renewed insurance benefits.
#3: Divide Treatment Costs
If you have had dental work done earlier in the year, you may have already met your deductible but have yet to reach your annual maximum. In this case, you could start dental treatment now to use up your remaining benefits, then take advantage of your renewed benefits next year after paying your 2021 deductible. Splitting dental treatment costs over two years can help significantly reduce the amount you will pay out of pocket.
#4: Schedule a Routine Checkup
Most insurance plans cover two preventive dental visits each year at 100%. This means you can likely receive a dental exam and professional cleaning before the year's end for little or no direct cost. Biannual trips to a dentist in Leawood are critical to maintaining a healthy smile and preventing minor issues from developing into more serious problems later down the line.
#5: Why It Pays to Be Proactive
Insurance providers often adjust deductibles, co-pays, annual maximums and other policy details on a yearly basis. If you like your current plan, this is yet another reason to be proactive and seek the dental care that you need now. If you wait until 2021, you may end up having to pay more for the same treatment that would currently cost you less.
Saving money is always a reason to smile! Take advantage of your remaining dental insurance benefits before they expire by following the 5 tips above.
About the Author
Dr. Dennis C. Ayer has over 30 years of experience providing affordable, quality oral care to Leawood and surrounding communities. He is in-network with many major dental insurance plans, including Delta, Aetna, BlueCross BlueShield, MetLife and more. To learn more about how to maximize dental insurance benefits, visit Dr. Ayer's website or call 913-246-3000.