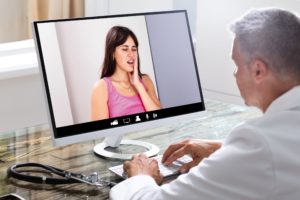 As the COVID-19 crisis continues in Kansas and across the country, many men and women are putting off dental checkups out of an abundance of caution. However, skipping trips to the dentist altogether can put your oral health at risk. Preventive care is key to maintaining a healthy smile and avoiding cavities, gum disease, and other oral health issues. Fortunately, you can still consult with a dentist in Leawood without leaving home thanks to teledentistry! Read on to learn why many patients are switching to digital dentistry during the COVID-19 pandemic.
What Is Teledentistry?
Teledentistry is an innovative new trend that harnesses the power of modern technology to service patient's oral care needs, no matter where they are located. Dentists utilize video conferencing, telephone calls, mobile apps and other information-sharing technologies to connect with patients outside the four walls of their office. Patients can easily share important details about what oral issues are bothering them, while their dentist can diagnose, educate and exchange important health information in return.
What Are the Benefits of Teledentistry?
Even before the current global health crisis, 78% of patients said they were likely to use teledentistry within the next five years, according to a survey by DentaVox. The COVID-19 pandemic has likely accelerated the trend toward teledentistry in Leawood, as patients seek ways to reduce the risk of being exposed to the infectious virus.
Given the current context, one of the biggest advantages of teledentistry is the fact that patients can consult with their dentist without leaving their homes. This is especially important for elderly or immunocompromised patients who may be at higher risk of severe illness from Coronavirus.
Additional benefits of teledentistry include:
Reduces costs and increases efficiency
Saves valuable time for both patient and dentist
Easier for patients to seek second opinions
Expands dental care access to people in rural areas
Creates more opportunities for in-office care for patients who need it
Should I Use Teledentistry in Leawood?
Now more than ever, it is critical that you look after your oral health as a way to maintain a strong immune system. Do not hesitate to ask your dentist in Leawood if they offer teledentistry consultations if you:
Feel anxious about scheduling an in-person visit
Are too busy with work, school, or other obligations to visit the dentist's office
Are considered part of an "at-risk" group related to COVID-19
If you still prefer or need to visit your dentist in person, you can rest assured that their office will be a clean and safe space. Many dental practices have implemented new infection control protocols, which may include:
Pre-screening patient questionnaires
Hand sanitizers stations throughout the office
Magazines, toys, and other items removed from the waiting room because they are difficult to disinfect
Strategic scheduling to allow for social distancing between patients
Remember, a healthy mouth is an important part of a healthy body. Stay vigilant during the pandemic by connecting with your dentist via teledentistry.
About the Author
Dr. Dennis C. Ayer has over 30 years of experience providing quality oral care in a safe and welcoming environment. The active U.S. Army Reserve colonel always prioritizes patient safety and convenience, which is why he offers teledentistry consultations at his private practice in Leawood. To learn more about teledentistry, visit Dr. Ayer's website or call 913-246-3000.