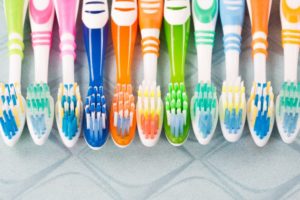 According to the American Dental Association, you should replace your toothbrush every three to four months. This sounds simple enough until you are faced with dozens of different options of bristles, brands, colors, and specialties. What should be a five-minute trip to the store quickly becomes an afternoon extravaganza as you try to figure out which one is best for you. Fortunately, your dentist in Leawood, KS is here to share three things to consider, whether you should choose electric or manual, and what is the best toothbrush for you.
3 Factors to Consider When Choosing a Toothbrush
Soft bristles – To give your teeth the effective clean they need, you may think opting for a medium or hard-bristle toothbrush is the way to go. However, this can lead to aggressive brushing that can damage your enamel, gums, and the surface of your teeth! Therefore, it is important to choose a soft-bristle toothbrush.
ADA Seal of Acceptance – Although initially the ADA Seal of Acceptance can seem like nothing more than a marketing ploy, it actually is an important signifier of a high-quality toothbrush. In fact, this symbol communicates that the toothbrush has endured rigorous testing to ensure your health and safety, as well as the quality of the brush itself.
Bristle size – Despite its name, the bristle size refers to the number of bristles instead of the length. To give your teeth an effective, gentle clean, opt for a toothbrush size that is between 30 and 35. If it is not printed on the back, you may be able to find the information on the company's website.
Electric Toothbrush vs. Manual: Which is Best?
For decades, professionals have participated in the debate of whether electric or manual toothbrushes are better. While there are pros and cons of each, a recent study from the Harvard School of Medicine found that a powered toothbrush may be more effective because of its ease of use and its ability to remove plaque. However, it is important to note that there can be a learning curve when it comes to electric toothbrushes, so make sure to speak with your dentist for instructions on how to get the best clean.
What Is the Best Toothbrush: Our Recommendations
With so many options to consider, it can be overwhelming to pick the right toothbrush. Therefore, we are sharing two recommendations to help relieve the pressure and anxiety you may face with dozens of options in front of you. We highly recommend extra-soft toothbrushes from Colgate for those who prefer manual toothbrushes. For patients who prefer electric, opt for a Philips Sonicare powered toothbrush!
Bright colors and flashy packaging can be eye-catching, but it's the components of the toothbrush that really matter. Therefore, make sure to keep the above information in mind when it comes time to switch your toothbrush. That way, you can benefit from a powerful, effective clean that keeps your smile in tip-top shape!
About the Author
After earning his bachelor's degree from Benedictine College, Dr. Dennis C. Ayer graduated from the University of Missouri-Kansas City School of Dentistry in 1984. Today, he is a member of multiple reputable organizations, including the American Dental Association, and has completed over 3,500 hours of continuing education courses! Dr. Ayer has also been awarded the "Meritorious Service Medal" from the United States Army and the "Cross of St. Benedict" from the Benedictine College. If you would like to speak with him about improving your oral care, please visit his website or give him a call at 913-246-3000.