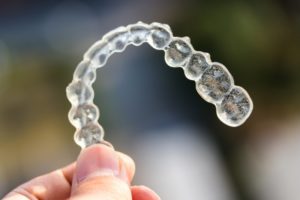 The COVID-19 pandemic has drastically changed many aspects of daily life, but it hasn't changed the importance of taking care of your teeth and gums. In fact, great oral hygiene can help lower your risk of getting sick by keeping your immune system strong and preventing the need to leave your house for emergency dental treatment. If you are straightening your smile with Invisalign in Leawood, it's more essential than ever to handle your aligners with care. Here are seven practical and important tips for taking care of aligners during a pandemic.
1.) Wash Your Hands Often
Aside from reducing your exposure to the virus, washing your hands regularly is the best way to keep yourself safe from COVID-19. This is especially important for those who are wearing Invisalign in quarantine. You should wash your hands:
After leaving a public place like a grocery store.
After coughing or sneezing.
Before putting in or removing your Invisalign aligners.
2.) Clean Your Aligners Every Morning & Evening
Bacteria builds up on your aligners as you wear them, especially overnight. Your daily dental routine should include cleaning both your teeth and your aligners twice every day to keep your mouth healthy.
3.) Soak Your Aligners Once a Day
Soaking your aligners daily also helps eliminate lingering particles. Try soaking your aligners in denture cleaner, Invisalign cleaning solution, or a mixture of equal parts distilled vinegar and lukewarm water.
4.) Brush & Floss Your Teeth Regularly
Keeping your teeth clean plays a key role in keeping your aligners clean as well, especially after eating. Brushing and flossing your teeth before putting your aligners back in prevents trapping food particles, which can lead to a variety of dental issues.
5.) Don't Eat or Drink While Wearing Your Aligners
The last thing you need while practicing social distancing is to break your aligners! They are not designed to withstand the pressure of eating, so you should always remove your aligners before you eat or drink anything in order to keep them intact.
6.) Break Bad Habits, Not Your Aligners
Now is an excellent time to break bad Invisalign habits that can damage your aligners. Take some time to remind yourself not to chew on pen caps or ice, move the aligners with your tongue, or take them out haphazardly.
7.) Avoid Leaving Your Aligners Out in the Open
Whenever you're not wearing your aligners, they should be stored somewhere clean and protected. If you leave them out in the open, you expose them to germs and bacteria in the environment.
If you do run into any issues with your Invisalign aligners, call your Leawood dentist right away. They will be able to answer your specific questions and help you determine what steps you need to take next to keep yourself and your smile healthy.
About the Author
Dr. Dennis Ayer has over 30 years of experience helping smiles of all ages stay happy and healthy. He has completed over 3,500 hours of continuing education in order to provide his patients the most effective treatments with the newest dental technologies and techniques. One of the advanced services he provides is Invisalign clear braces. As a certified Invisalign provider, he can help you get the straighter, healthier smile you've always wanted. If you have more questions about caring for your aligners during a pandemic or need them repaired, don't hesitate to contact him via his website or at (913) 246-3000.