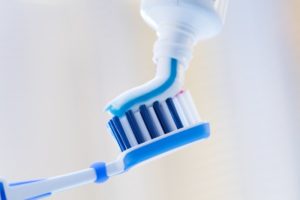 Isn't it crazy that a few months ago, most of us had never heard of COVID-19? Now it feels like it has taken over our lives and changed the way we do just about everything. This includes the way your dentist's practice operates. Most dentists are following the American Dental Association's recommendation to only treat emergency patients for the time being. This means that your regularly scheduled checkups and cleanings will have to be postponed until the quarantine is over. In the meantime, your dentist has written this handy guide on keeping up with dental hygiene through quarantine.
Use the Correct Brushing Technique
Brushing your teeth is one of the easiest ways to prevent plaque from wreaking havoc on your oral health. You should make sure to:
Brush for at least two minutes at a time every morning and every night
Apply only the gentlest pressure – brushing too vigorously can irritate your gums and erode your enamel
Use a toothpaste with fluoride to strengthen your teeth
Remember to brush the backs of your teeth as well as the area around the gumline
Floss Every Night
Your toothbrush alone can only clean about 60% of the surfaces of your teeth. Luckily, flossing takes care of the rest. It's especially crucial that you floss before bed. Otherwise, harmful food particles stuck between your teeth will sit there all night, giving bacteria in your mouth ample time to cause or worsen tooth decay, gum disease, and bad breath.
Here are a few tips on how to floss properly:
Never snap the floss against your gums
Use a string of floss about 18 inches long, and switch to a new section of the string for each tooth
Clean both sides of the teeth in each space, rather than just placing the floss in between the teeth and quickly pulling it out
Rinse with Mouthwash
Many people have their brushing and flossing routines down pat, but neglect to add mouthwash to their regimen. However, it can be massively beneficial to swish with mouthwash for 30-60 seconds before or after you brush and floss.
Keep in mind, though, that not all mouthwashes are created equal. Some are only designed to freshen your breath or whiten teeth, while others are made to boost your oral health. Avoid mouthwashes with alcohol in them at all costs. Alcohol has the potential to dry out your mouth, which actually increases your risk of problems like gum disease and cavities. Instead, opt for a mouthwash containing fluoride, which makes your enamel stronger.
Once this COVID-19 pandemic slows down, your dentist should open up their practice again for regular checkups and cleanings. In the meantime, it's a good idea to call and schedule your next appointment so that you don't have to worry about it later.
About the Author
Dr. Dennis Ayer is a dentist in Leawood, KS who graduated in 1984 from the University of Missouri-Kansas City School of Dentistry. In the same year, he founded his private practice with the goal of providing comprehensive, advanced and cosmetic dentistry. Throughout his career, he has completed more than 3,500 hours of post-graduate courses to hone his dentistry skills. His practice is currently only open to treating emergency patients. If you are suffering through a dental emergency, or if you want to book your next checkup for when the office reopens, contact Dr. Ayer's practice at (913) 246-3000.