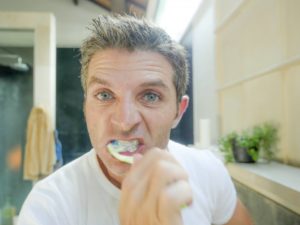 Can there ever be too much of a good thing? When it comes to brushing your teeth, the answer is yes. It's possible to brush your teeth with too much vigor. Doing so may result in what's called "toothbrush abrasion," which can cause a receding gumline and sensitive teeth. Let's take a closer look at how you and your dentist can stop toothbrush abrasion in Leawood.
What Happens When You Overbrush?
When you brush with too much force, or use a toothbrush with medium or hard bristles instead of soft ones, you run the risk of wearing down your tooth enamel. Your enamel is the outer shell of your teeth that protects an underlying layer called dentin. Dentin contains microscopic tubules that lead to the nerves of your teeth. The more your enamel is eroded away, the more dentin is exposed, and the more sensitive to hot and cold temperatures your teeth become.
Overbrushing can also push the gumline back and expose the sensitive roots of the teeth. Receding gums can lead to gum disease and cavities on the tooth roots that may necessitate fillings, root canals, or even tooth extractions.
How Can You Stop Damage from Brushing Too Hard?
If damage has already been done, your dentist in Leawood may be able to fill in the grooves of your teeth with dental bonding material. If not, however, changing your brushing habits is the best way to combat toothbrush abrasion.
Here are some tips for effective and gentle brushing:
Brush your teeth for 2-3 minutes at least twice a day.
Apply just enough pressure to barely feel the bristles of your brush against your teeth and gums. If the bristles are squished, you're using too much force.
Use a toothbrush with the softest bristles you can find to minimize abrasion.
Place the head of your brush at a 45-degree angle to the gumline to clean your teeth and gums at the same time.
Use a short, scrubbing motion a few times in each area. Don't saw back and forth across your teeth.
By sticking to these steps, you can save yourself time and even money by avoiding the need for extensive dental procedures. Your smile will thank you!
About the Author
Dr. Dennis Ayer attained his dental degree from the University of Missouri-Kansas City School of Dentistry and opened his private practice in Leawood, Kansas shortly thereafter. Since earning his degree, he has accrued more than 3,500 hours of continuing education courses to sharpen his skills. To learn more about how to properly brush your teeth, contact Dr. Ayer on his website or by calling (913) 246-3000.