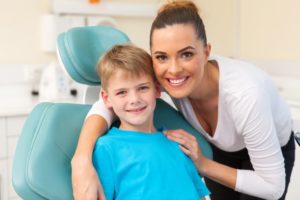 As summer draws to an end and your child prepares to head back to school for the upcoming year, you may be busy lining up any immunizations or booster shots needed and gathering the necessary supplies to start the semester. Your family dentist in Leawood says that in the midst of the last-minute preparation, don't forget about your child's oral health. Read on for 4 helpful tidbits to make this a healthy school year!
#1 – Schedule a Preventive Care Visit
The summer is a great time of the year to schedule a checkup with your local dentist. That's because your child won't have to miss any time at school to attend. Since these visits are typically six months apart, the next appointment can be scheduled during winter break to prevent any interruptions.
By taking this proactive step, your child can be better protected from the development of cavities, which can start a chain reaction of poor oral health that can follow him or her into adulthood. By setting a trend for maintaining preventive care visits early in life, major problems can be avoided, and you'll also be helping to create a positive habit for the future.
#2 – Commit to Packing a Lunch
Another major contributor to excellent oral health is the maintenance of a diet high in quality foods. To better ensure this happens, it's a good idea to pack your child's lunch. Therefore, he or she can consume more fruits and vegetables instead of unhealthy items that can lead to tooth and gum decay.
#3 – Make Oral Hygiene a Priority
In addition to eating healthier foods, it's also critical for your child's oral health that he or she practice excellent dental hygiene. The minimum requirements for fighting off oral bacteria are to brush and floss at least two times a day. This will help to remove bacteria before they can develop into stubborn plaque and tartar.
#4 – Wearing a Protective Mouthguard
If your child will be involved in any type of sporting event this school year, it's imperative to have him or her fitted with a custom mouthguard. Just as the bumper of a vehicle is designed to absorb shock to protect the passenger, a custom mouthguard provides the same benefit. Otherwise, your child could be subject to a painful, costly and time-consuming injury.
By taking into account what you've learned here and acting on it, you can rest assured that your child will have excellent oral health this school year, which will make life a lot easier for you. For more tips and for your child to receive the best in care, contact your dentist in Leawood today!
About the Author
For over 30 years, Dr. Dennis C. Ayer has been a fixture in the Leawood area. A graduate of the University of Missouri-Kansas City School of Dentistry, he has remained committed to learning throughout his career. Thus, Dr. Ayer has taken over 3,500 hours of continuing education, which he uses to provide patients of all ages the best in care at his private practice. He can be reached for more information through his website.