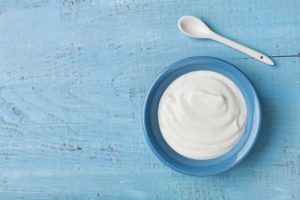 You have a perfect date with your significant other planned – dinner, a movie, and stargazing to finish it off. The movie goes great, and dinner is simply delicious. But when you lean in close to give them a kiss while watching the stars, they subconsciously move away ever so slightly. What gives? Then they gently tell you that your breath could smell a lot better than it currently does. Well, this is embarrassing. If only there were a food that could combat bad breath. Fortunately, according to a Japanese study, there is – plain yogurt. Read on as a dentist in Leawood explains how yogurt can fight bad breath.
What Causes Bad Breath?
Bad breath usually starts in the mouth, and has many possible causes, including:
Food particles from foods like onions and garlic
Smoking
Poor oral hygiene
Acid reflux
How Does Yogurt Fight Bad Breath?
A Japanese study has suggested that eating two servings of plain, sugar-free yogurt a day may fight bacteria that breed on the tongue. When these bacteria eat food particles, they release odors that cause unpleasant breath.
After six weeks of eating the recommended amount of yogurt per day, participants in the study had an 80 percent decrease in their levels of hydrogen sulfide, which is a compound that causes terrible breath. This means that in addition to being an excellent source of protein, plain sugarless yogurt provides the added benefit of keeping your breath fresh.
How Else Can I Keep My Breath Fresh?
There are a few other ways to avoid bad breath, such as:
Visit your family dentist in Leawood every six months for a checkup and cleaning to remove plaque and tartar that cause bad breath.
Brush your teeth at least twice a day with fluoride toothpaste and a brush with soft bristles.
Don't forget to brush or scrape your tongue, as that's where the bad breath-causing bacteria love to reside.
Floss at least once a day, ideally right before bed.
Stay away from odorous foods like onions and garlic.
By following these steps, as well as eating a hearty helping of yogurt every day, you can stop bad breath in its tracks.
About the Author
Dr. Dennis Ayer earned his dental degree from the University of Missouri-Kansas City School of Dentistry in 1984. He then opened his private practice in Leawood, Kansas in the same year with the goal of providing all of his patients with comprehensive general and cosmetic dentistry. If you would like to learn more ways to fight bad breath, contact Dr. Ayer at (913)-246-3000.