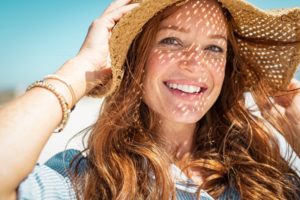 Summer is in full swing, and that means fun in the sun with family. Unfortunately, it also means an increased chance of tooth decay. Many of us, no matter our age, let our oral hygiene regimens fall by the wayside during summer, especially when we're on vacation. Here are 3 tips from your dentist in Leawood to keep your and your family's smiles healthy this summer.
1. Keep Up with an Oral Hygiene Routine
A lot of us don't brush or floss as often as we should during the summer, since our normal routines get shaken up by vacations. Just because you and your child stay up late watching fireworks doesn't mean you can skip brushing. Get in the habit of brushing with them twice a day for two minutes. They will not only learn how crucial brushing is, but you will also get to spend more time together. In addition, make sure your child starts flossing between any two teeth that touch. Learning how to floss correctly when they're young can prevent cavities when they're older.
2. Limit Sugary Snacks and Drinks
Summer is a common time to snack on sugary things during sports tournaments or lazy days on the beach. However, constantly snacking is bad for your teeth. Your saliva doesn't get a chance to wash over your teeth and clean out leftover bits of food that can attract bacteria and cause cavities. Offer healthy snacks like cheese and fruit instead of candy, and water instead of sugary sodas and juices.
3. Book Your Child's Cleaning Before the Back-to-School Rush
Parents often wait to schedule an appointment with their family dentist in Leawood right before school starts. This means they can't get a cleaning in before school starts since appointment times are likely to be booked up. Your child will then have to miss school time to get their teeth cleaned. Schedule your child's cleaning in the middle of the summer to avoid the rush. If you see a family dentist, make it easy on yourself and book your cleaning on the same day.
Keeping your and your little one's smiles is important all year long, but especially during summer. Remember to practice good oral hygiene habits, and to visit your dentist this summer to make sure your smile is nice and clean!
About the Author
Dr. Dennis Ayer completed his doctorate in 1984 at the University of Missouri-Kansas School of Dentistry. In that same year, he founded his own practice in Leawood, Kansas with the goal to provide comprehensive care for patients of all ages. Since achieving his degree, Dr. Ayer has accrued more than 3,500 continuing education hours to provide his patients with up-to-date care. To learn more about how he can help your family's smiles shine this summer, click here or call (913)-246-3000.