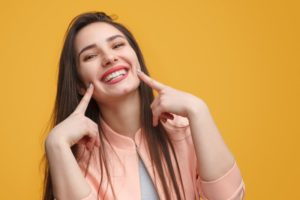 According to a study commissioned by the American Association of Orthodontists, more than one-third of American adults are unhappy with their smile. If you consider yourself one of them, don't think that the only way to achieve your dream smile is through expensive procedures. With a strong oral hygiene routine and healthy lifestyle choices, you can soon smile with ease. Your family dentist near Leawood outlines some simple steps for leaving your low smile-esteem behind.
Strong Oral Hygiene
Practicing good oral hygiene will benefit both your confidence and your health. Here are some tips for your daily routine:
Brush your teeth twice a day, for at least two minutes at a time
Make sure to also gently brush your gums and tongue
Floss your teeth at least once a day
Use mouthwash (containing fluoride) at least once a day
Purchase dental products in pairs so you always have a back up
Visits to the Dentist
An important step in keeping your smile beautiful is regularly visiting your dentist. First, you need to find one that is right for you. When choosing your practitioner, keep their credentials, convenience and patient reviews in mind. You should ultimately feel comfortable with your dentist and their office.
Visit your dentist at least twice a year for cleanings and check-ups. This can help your dentist recognize and prevent dental issues before they become serious. Make sure to ask any questions you have and mention any issues you are currently experiencing. You can also ask for general tips to best care for your mouth. To secure a day and time that works best for you, schedule your appointments in advance.
Lifestyle Changes
If you are truly committed to achieving your dream smile, you may have to change certain aspects of your lifestyle. Avoid smoking to prevent tooth discoloration, gum disease, cavities and mouth cancers. If you participate in sports, specifically those with heavy contact, wear a mouth guard to prevent dental injury. Your dentist may be able to make a customized impression of your teeth for the best results.
A Healthy Diet
Because whatever you put in your mouth has an effect on your teeth's health, maintaining a healthy diet is extremely important. Avoid sodas, fruit juices and energy drinks. Consider drinking green tea to slow bacteria growth in your mouth and snacking on cheese to lower the amount of acid produced in your mouth. Consume a healthy amount of calcium to support both your jaw and overall oral health.
For better-looking teeth, you may want to avoid certain foods and drinks to prevent stains. Coffee, black tea, wine, soy and tomato sauce, balsamic vinegar and berries with deep hues should all be consumed in moderation if you're trying to minimize teeth stains.
Incorporating these simple steps into your routine can help your smile look beautiful for years to come. If you have further questions about how to help your teeth look their best, feel free to reach out to your local dentist.
About the Author
Dr. Dennis Ayer has over 30 years of dental experience and has completed over 3,500 hours of continuing education courses. He is a member of the American Academy of Facial Esthetics, American Dental Association and International College of Oral Implantologists. Dr. Ayer has always been dedicated to service, earning the Meritorious Service Medal from the United States Army and the Cross of St. Benedict from Benedictine College. If you have further questions about keeping your teeth healthy and beautiful, he can reached through his website or at 913-246-3000.