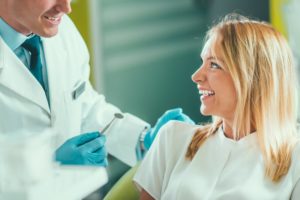 Summer is one of the best times of the year because you get to soak up the sun and meet new people. The only thing that holds you back from getting the most out of this season is your embarrassing smile. You realize that your teeth are discolored and crooked and don't want others to notice. This year, you're turning over a new leaf and deciding to invest in your grin by getting dental services to improve your self-esteem. Here are 4 questions to ask while you're starting your hunt for a cosmetic dentist in Leawood.
How Much Experience Do They Have?
One of the first things to look for on your potential cosmetic dentist's website is how long they've been practicing. You can typically find this in their biography along with where they studied, and if they have any special training. Don't write off a professional just because they don't have decades of experience, though. A newly qualified dentist could have advanced training in all the newest treatments.
If you're considering a newer professional but are hesitant, take the time to ask them how much experience they have and what they can do to improve the imperfections you're looking to get fixed. This can give you a better idea of whether they're a good fit for your specific needs.
Do They Offer The Procedures You're Interested In Getting?
If you're not sure what procedures you need done, scheduling a consultation and visiting your potential future dentist in Leawood can be a huge help. They can provide you with the specifics of procedures and make recommendations as to what treatments they feel can help fulfill your desires.
If you're looking to have a combination of procedures done, be sure they offer them all. Also, if you can find a dentist who offers preventive and restorative services too, you can save yourself the hassle of travelling between multiple practices.
Are You Comfortable With The Dentist And Staff?
Choosing a dentist you're comfortable with will ensure that you have a great experience. When you walk into their office, do you enjoy interacting with the staff? Do you feel free to ask questions you may have, and do you receive helpful and thoughtful answers?
Does Their Website Offer Before-And-After Photos Or Testimonials?
When you visit your future dentist's website, they may feature a smile gallery full of before-and-after photos. If they don't have this, they may have a page of patient testimonials. This can give you some insight into what to expect and the quality of their work. If they don't have an album on their website, when you go in to visit them, don't be afraid to ask the dentist to show you how they will be able to improve your unique smile.
While you're on your hunt for a reliable cosmetic dentist that can transform your smile, don't be afraid to research and ask questions. This can allow you to feel comfortable and confident in the treatment you'll be receiving. Investing in your smile is a huge deal, so making sure you get the high quality care you deserve is important!
About the Author
Dr. Dennis Ayer emphasizes patient-centered care so everyone can leave his office with a healthy smile and their dental desires fulfilled. In 1984, he opened his practice with the goal of giving his patients comprehensive advanced and cosmetic care. He is an active member of several professional organizations, including the American Academy of Facial Esthetics, giving him sharpened skills with Botox and dermal fillers. For questions or to schedule a complimentary consultation, visit his website or contact 913-246-3000.