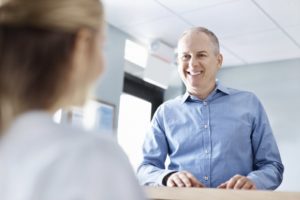 Whether your dental insurance plan is with Delta Dental, Aetna or MetLife, it's important that you use the benefits entitled to you before the end of the year. Dental benefits typically expire annually, meaning they will not carry over into 2019. For example, if you've only spent $300 worth of benefits but have a $1,200 annual maximum, that's a large chunk of change to leave on the table.
To get the most out of your dental benefits, consider the following tips from a Delta Dental dentist in Leawood.
The "Use It Or Lose It" Situation
You may have heard dentists, team members, and insurance coordinators use this phrase when describing dental insurance. It's very common for PPO plans to not allow services to carry over into the following year (after all, how else could they charge you for renewing your plan?) Insurance companies expect you to let your benefits go by the wayside so they can ultimately profit more as a result.
In some plans, there may be a rollover period that let's you carry out benefits into the next year. However, they're often only offered at a reduced rate, meaning you'll likely need to pay out-of-pocket costs anyway.
When you visit the practice, don't feel ashamed to ask employees to describe your plan in more detail. It's one of the most common questions dentists receive, so much so that they hire people whose sole job is for handling insurance companies one on one and answering questions you may have.
Know Your Remaining Benefits
Before scheduling a treatment, it's important that you or the practice's employee goes over your explanation of benefits. This document lays out all the benefits your dental insurance offers whenever a claim is accepted or rejected. It typically includes an itemized list of what's covered and what isn't, allowing you to determine what out-of-pocket costs will be.
Keep in mind that Flexible Spending Accounts (FSAs) don't allow people to carry funds over into the next year. If you have an FSA set up with your employer, always double check the available funds you have to prevent them from expiring.
Scheduling Treatments for Now and Later
Most people who have benefits or funds leftover from their dental insurance are overdue for preventive treatments anyway. If you can't remember the last time you had an exam, cleaning or X-ray, schedule a visit for today and six months from now. The more often you schedule ahead of time, the more likely you are to utilize your benefits before they expire.
By scheduling preventive treatments now, you'll have more money to use towards more advanced treatments, should you need them. However, if you're regularly seeing the dentist and practicing proper at-home care, it's unlikely you'll need significant restorative treatments like root canals or dental crowns.
Don't lose your dental benefits, use them! Schedule an appointment with an Aetna dentist in Leawood today to get started!
About the Author
Dr. Dennis C. Ayer earned his DDS degree from the University of Missouri-Kansas City School of Dentistry. His practice takes insurance from Delta Dental, Aetna, MetLife and others, but he also offers more flexible payment options like CareCredit. To learn more about his practice or your own insurance benefits, you can contact him through his website.