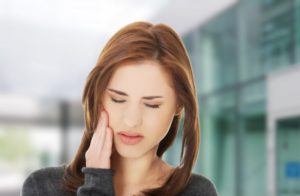 Ouch! Pain comes in all sorts of shapes and sizes, from the heartache you get when you watch a sad movie to the sting of a papercut to the agony of serious injuries. But sometimes pain assaults your mouth and the area around it. This is known as orofacial pain. What causes this condition, and is there anything you can do about it? Your dentist is here to discuss this fascinating topic.
The Science Behind Orofacial Pain
Researchers at the Oregon Health and Science University School of Dentistry have delved deep into orofacial pain and its causes. One particularly noteworthy discovery of theirs has to do with a specific protein that plays a prominent role in pain signals. There is a dramatic increase of this protein when parts of the face or mouth become inflamed, and it signals the brain. Your brain, in turn, causes the discomfort that you feel.
The research may lead to new methods for treating common causes of orofacial pain, enabling doctors to prescribe therapies that will quickly relieve discomfort and get patients back to feeling good again.
Causes of Orofacial Pain
There are many potential causes of orofacial pain, but according to one estimate, over 95 percent of causes are related to dental health problems. Some issues that may cause such pain include:
Temporomandibular joint (TMJ) disorders (problems with the joint that connects your lower jaw to the rest of your skull)
An abscessed tooth (a type of infection)
Pulpitis (inflammation of the pulp inside a tooth)
Gum disease
Oral cancer
Cracked or broken teeth
Finding Relief for Orofacial Pain
Until scientists can stop your body from sending pain signals to your brain, you'll have to rely on old-fashioned, tried and true ways to find relief for your orofacial discomfort. A visit to your dentist is a good starting point. A professional can examine your mouth and identify the source of your pain, whether it is an infection, an injury, or stress.
The treatment for your pain will depend on why you're hurting. If you have a TMJ disorder, for example, a night guard, along with massages and facial exercises, might be the best way to relieve your jaw pain. If you have an abscessed tooth or pulpitis, a root canal, which removes the nerve in a tooth that sends pain signals to your brain, might be in order.
You can also take mild over the counter painkillers to ease your discomfort. Just be sure not to place the medicine directly on your gum because doing so might cause chemical burns.
Orofacial pain is a bummer! Fortunately, your dentist may be able to treat your condition and help you return to feeling like your old self.
About the Dentist
Dr. Dennis Ayer is proud to provide comprehensive dental services to families in the Leawood area. If you're experiencing orofacial pain, don't hesitate to give our office a call so Dr. Ayer can help you out. Please contact us at 913-439-1800.