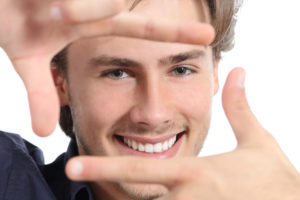 When you suffer from crooked, gapped, or overcrowded teeth, it is easy to find yourself hiding your smile. The misalignment hurts your appearance, often causing you to feel self-conscious as others judge you. However, your looks and confidence are not the only areas to suffer. Misaligned teeth also negatively impact your oral health and can lead to complications of the jaw. To improve your smile, Invisalign in Leawood is the discreet and sophisticated treatment you need.

Why Do I Need Braces?
Misalignment and bite issues are more than just cosmetic flaws. They create certain challenges in several areas of your life, like your dental health. When the teeth are not correctly aligned, they are difficult to clean. This increases your risk for tooth decay and gum disease. In addition, you are more likely to suffer from a dental emergency. Protruding, tilted, and rotated teeth are more prone to suffer the brunt of an injury when trauma to the mouth occurs. If they are aligned, they are less likely to break or get knocked out.
The alignment of your teeth plays an important role in your bite. If they are not in their correct positions, it can hurt how your top and bottom jaw line up. This can place strain on your temporomandibular joint, which connects your jaw to your skull. This can cause a painful and uncomfortable disorder of the joint.
How Can I Get a Straight Smile?
In the past, the only option to correct the alignment of your teeth involved attaching metal brackets and wires. These are highly noticeable, uncomfortable, and cause dietary restrictions. Now, you can benefit from a clear choice using aligners that are worn over the teeth.
We create a series of aligners to gradually move them into position. They are clear so no one will ever notice that you are wearing them. Each aligner is used for about two weeks before you progress to the next one in the series. On average, it takes about 12 months to complete your treatment.
When compared to traditional braces, Invisalign offers a confident treatment that resolves the disadvantages of metal brackets and wires. In addition to a quicker option, you can eat what you like and oral hygiene is easy. You will not have to visit our office as often because you will not need to have adjustments. In addition, the smooth surfaces and custom-fit are comfortable so you do not have to worry about irritation to the inside of the lips or cheeks.
Where Can I Get Invisalign?
If you are ready to improve your confidence and oral health, it is time to see if you are a candidate for Invisalign. Although the aligners are effective, they are not right for everyone. We will evaluate your alignment and bite to create a customized treatment plan to give you a straight smile.
Start your journey to a straight, healthy smile with your dentist in Leawood. Contact us today to schedule a consultation.