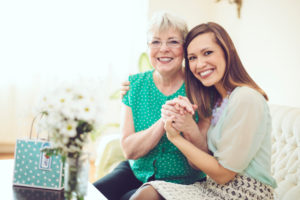 With Mother's Day right around the corner you may be looking for a creative way to show Mom how much you appreciate her this year. How about giving her the gift that keeps on giving? Dental crowns can repair chipped or fractured teeth or replace those unsightly metal restorations for a whiter, brighter and more functional smile. Wouldn't you love to see Mom smiling with confidence in all the family photos? Brighten Mom's smile this Mother's Day with dental crowns in Leawood, KS.
What is a Dental Crown?
A dental crown is a great way to repair a tooth that has been chipped or fractured beyond what a dental filling can restore. The crown is custom designed to fit over your tooth like a "cap," protecting the integrity of your natural tooth structure and root. Crowns are made of high quality porcelain and can be custom blended to match your existing teeth and complement your smile.
Porcelain crowns are very durable, and they're designed to serve you for many years. They act as your natural tooth would, allowing you to eat and chew all the foods you normally would enjoy. You can also brush and floss your crowns as you do your existing teeth, so your home care routine will not have to change.
Replacing Metal Fillings
Crowns are a good option to replace large old metal fillings. If your Mom still has metal fillings in her mouth, chances are they may be breaking down and causing leakage, which can cause her tooth to look dark and gray. Removing metal fillings and replacing with porcelain crowns can enhance the appearance of your Mom's smile, while restoring optimum health and function to her mouth.
Dr. Dennis Ayer is your premiere dentist in Leawood, KS and if you want to give Mom a gift she'll never forget for Mother's Day, the first place to start is with a consultation with Dr. Ayer. He'll discuss your Mom's needs, concerns and goals for her smile, and create a plan that will fit her lifestyle, while giving her the smile she's always dreamed of.
Dr. Ayer has many years of experience providing patients in Leawood with high quality dental care. You can rest assured that when you work with Dr. Ayer and his team that your Mom will feel comfortable and at ease while she's receiving crowns that she can trust. Don't rely on flowers or chocolate this Mother's Day! Give Mom the gift of a lifetime; contact our office to learn more about how we can enhance Mom's smile.