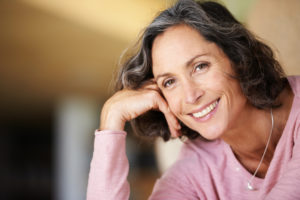 As your trusted family dental practice, there are some things we'll never get tired of hearing. One of those is how patient lives are transformed by dental implants — because we know that to go from living with an incomplete smile to having all your strong, beautiful teeth once again is a powerful thing. In fact, dental implants are by far the best option in tooth replacement. Keep reading to learn more about the treatment from your dentist in Leawood, KS, Dr. Ayer.
Dental implants are the sturdiest tooth replacement option
We've long used dental implants as a way to restore missing teeth, but the treatment has never been as effective, or as accessible, as it is today. The procedure for modern dental implants is now smoother than ever — and Dr. Ayer can perform the entire process, from implantation to final restoration, under one roof.
How dental implants work
Dental implants are tiny titanium posts that are surgically implanted into the space left by each missing tooth. Over a period of approximately six months, the implants gradually fuse with the jawbone. This process, known as osseointegration, is crucial to the success and stability of your new replacement teeth. Once the recovery period is complete and your dental implants have become one with your jaw, the tops are exposed and your new teeth are bonded securely on.
Benefits of dental implants
Compared to other options in tooth replacement, like bridges or suction dentures, there's really no doubt about it — dental implants are truly the best, simply because they replace the missing tooth and its root. Some of the added benefits include:
Restored ability to eat, speak and smile, just like before your tooth loss

Increased oral health due to osseointegration, which prevents jawbone degeneration

Tooth replacements never have to be refitted with dental implants

A fuller, more youthful face shape (without that sunken "missing teeth" look)
Candidates for dental implants
Before he can begin on your unique treatment plan, Dr. Ayer will need to confirm that dental implants are a viable option for you and your smile. Schedule your appointment for your initial consultation, and he'll check to make sure the following are true.
You have adequate existing jawbone for the dental implants to anchor to. If not, bone grafting may be explored.

You're in good oral and overall health. Patients with advanced gum disease, diabetes, certain types of cancer and HIV are generally not good candidates.
Ready to get started? Call us today
Contact Dr. Ayer's office to get started on rebuilding your smile with dental implants in Leawood, KS today! We're happy to help Leawood residents and all our neighbors regain their happiest, healthiest smiles.